Note:  After the game, be sure to check us out for all the post-game reaction. As soon as the site is updated we notify you via twitter @illegalcurve and Facebook.
Note II: For away games we have our #ICGWG  contest. Make sure to @ tweet @illegalcurve with your guess. Remember that for your vote to qualify you must send in your guess using a hashtag (#). (i.e. #ICGWG Ladd).
Jets news:
Winnipeg Sun:  Jets at Ducks Gameday.  Ken gives you some insight into tonight's Jets and Ducks game.
TSN:  Jets welcome Kane back to face Western-leading Ducks.  The scoring punch that the young gun could add to this roster is gonna be a nice little help for coach Paul Maurice.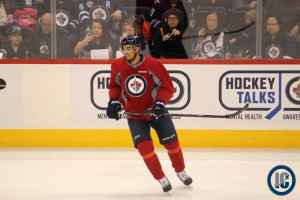 CBC:  30 Thoughts.  Number 21 touches on Jets defenceman Tobias Enstrom and his production.
Illegal Curve:  Coach Maurice pre-game presser.   Thoughts on tonight's game and potential to be first team to beat Anaheim at home in regulation.  A measuring stick game?  What is he looking for from Evander as he gets back into the lineup?  What has he learned about his team that he didn't know a week ago?. 

Illegal Curve:  Game day set-up.  Ez sets up tonight's action between Jets and Ducks including projected lineups, starting goalies and game notes.
Illegal Curve:  Morning Papers. If you missed any of the news this AM we have you covered.
IceCaps news:
CBC:  IceCaps moving, but St. John's will have hockey.  Danny Williams, IceCaps CEO and former premier of Newfoundland and Labrador, spoke about the move.
Winnipeg Free Press:  AHL team could move to Thunder Bay says Chipman.  Chipman was on the trip to Anaheim and met with reporters to address the rumours.
Illegal Curve:  Mark Chipman talks about potential of moving Jets AHL franchise to Thunder Bay (audio).  Discussing the reports of a potential move from St. John's to Thunder Bay.  What's the timeline?  If it was to go ahead for Thunder Bay, any idea when?  Thunder Bay would have its own travel challenges would it not?  What is the arena project they are building?  Who else is part of the group?  Can St. John's survive?
Illegal Curve:  Are the Jets considering a move from St. John's to Thunder Bay?  News broke this AM that True North was considering a move of their AHL franchise from St. John's to Thunder Bay.