Note: After the game, be sure to check us out for all the post-game reaction.  As soon as the site is updated we notify you via twitter @illegalcurve and Facebook.
Note II: For away games we have our #ICGWG contest. Make sure to @ tweet @illegalcurve with your guess. Remember that for your vote to qualify you must send in your guess using a hashtag (#). (i.e. #ICGWG Wheeler).
Jets news:
Winnipeg Sun:  Notes from the Road.  Ken provides plenty of great pre-game reading material for Jets fans who need a fix before puck drop.
Winnipeg Free Press:  Kane back on the ice with the Jets tonight.  With the Jets offense lacking this couldn't come at a better time.  You just have to hope that he is 100% ready to go although based on what coach Noel said post-practice you get the impression he will be slowly brought back to his regular ice time.

Winnipeg Sun:  Kane back, Jets back too?   Time for this team to have a bounce back game if they want to get back on track for the playoffs.
TSN:  Jets turn to Montoya in road tilt versus Blue Jackets.  Nice to see coach Noel having faith in his backup who has been good for his team this season.  Sounded as if the coach wants goalie coach Wade Flaherty to have some extra time to work with Ondrej Pavelec.
CBC:  Jets seek 1st win over Blue Jackets in 8 years.   You have to go back to December 9th, 2005 to find the last win for this franchise in Ohio.  That is quite a streak.
Illegal Curve:  Coach Noel pre-game.  A homecoming for him.  His relationship with Blue Jackets Coach Richards.  Matching wits behind the bench.  On the move West.  Playing a Western style of game against an Eastern opponent.  Comment on the suspension of Anthony Peluso.  Ready to see Evander Kane back in the lineup.  Where is Zach Bogosian in his recovery process (aways away, week range).  Giving Al Montoya a start.  His thoughts on Adam Pardy's play.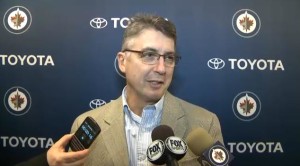 Illegal Curve:  Game Day Set-Up.  Ezra looks at both teams and gives you some thoughts as well as the starting goalies and projected lineups.
Illegal Curve:  Jets Morning Papers.  If you missed any of the Jets, IceCaps or Blue Jackets news we have you covered.
Blue Jackets news:
Columbus Dispatch:  A.M. #34.  Lots of good information from a Blue Jackets perspective in the lead up to the game.