Note:   After the game, be sure to check us out for all the post-game reaction.  As soon as the site is updated we notify you via twitter @illegalcurve and Facebook.
Note II: For home games we have both our #ICGWG and #IC5050 contests. Make sure to @ tweet @illegalcurve with your guess. Remember that for your vote to qualify you must send in your guess using a hashtag (#). (i.e. #ICGWG Jokinen & #IC5050 $35,950.00).

Jets news:
CBC:  5 things to watch for as Jets take on Flames.  Jeff covers home sweet home, back-to-backs, life without Bogosian, Olli Jokinen going up against his old team and Flames calder candidate.
Winnipeg Sun:  Ken's notebook.  Off the plane and Ken unloads his notebook on last night's game against the Wild and tonight's contest with the Flames including a visit by former Oilers great and Team Finland GM Jari Kurri last night to watch some potential Finnish participants in Sochi, including Olli Jokinen.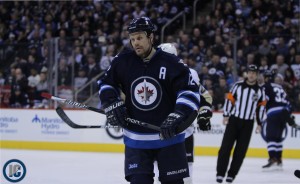 Illegal Curve:  Coach Noel pre-game presser.   Status of Stuart (remains aways away).  How big a loss is it not having Bogosian in the lineup?  Is team progressing?  Challenge sticking to structure playing a younger/less structured Calgary team?  Preventing one loss from becoming another.  East vs. West talk.  A poor Central Division record.

Illegal Curve:  Player pre-game audio from MTS Centre.  After practice audio from Zach Redmond, Keaton Ellerby, Mark Scheifele & Mark Stuart.
Illegal Curve:  Game day set-up.  Ez sets up tonight's action between Jets and Flames.
Illegal Curve:  Morning Papers. If you missed any of the news this AM we have you covered.