Note: After the Jets game, be sure to check us out for all the post-game reaction. As soon as illegalcurve.com is updated we notify you via Twitter | Facebook | Instagram.
Jets news:
Winnipeg Free Press: Puck luck aside, Ehlers doing right things around net. (Paywall). In case you were worried the Dynamic Dane moniker wouldn't still apply give this article a read.
Sportsnet:  Scheifele weighs in on Matthews vs McDavid.  I'm not really sure why we have these conversations at essentially the start of these guys careers or even if you feel that sufficient time has played out to begin the conversation, why this conversation is happening less than 10 games into a season?
Winnipeg Free Press: Byfuglien still out, Lemieux gets season debut tonight. (Paywall).  Mike sets up the action from what he saw today at Bell MTS Place.
The Athletic Winnipeg: It's way too early to panic but the Winnipeg Jets need to be better. (Paywall). Although seeing folks losing their minds after five games is somewhat entertaining.  Clearly this team isn't at the same level they were at when the previous season concluded but I agree with Murat that it isn't yet time to get super concerned.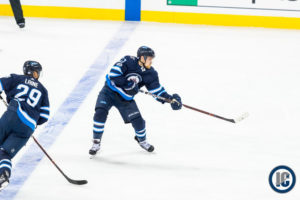 Edmonton Journal: Jets a big challenge at home in Winnipeg. Winnipeg is 2-0 this season within the unfriendly confines of the smallest building in the NHL. A preview of tonight's matchup from a writer that covers the Oilers.
Edmonton Sun: Connor McDavid in good spirits carrying load for Edmonton Oilers.  Read all about the most dynamic player in the NHL and what he has to do as he pulls his team along this season.
Illegal Curve: Jets vs. Oilers pre-game report. The Jets skated today in Winnipeg as they got ready to face the Oilers at Bell MTS Place tonight at 7 pm. Includes projected lines, D pairs and starting goalie.  As well as audio from Brendan Lemieux, Josh Morrissey and Kyle Connor.
Illegal Curve: Morning Papers. If you missed any of the news we have you covered.
Jets video:
TSN: Has the 'grind' to start the season been a surprise? Many expected the Jets to come out firing and dominate during their first five-games but it has been more of a grind in reality, how big of a surprise is this? Should we expect more offence out of the forwards? Where has Dustin Byfuglien's absence impacted them the most? Sara Orlesky and Ken Wiebe discuss in Jets 3-in-3.
Jets audio:
Illegal Curve: Coach Maurice pre-game. Topics included – Update on Byfuglien.  Brendan Lemieux getting into the lineup.  On Lemieux's skill set.  Is it by design that Lemieux is on a line with Perreault?  The chemistry between Lemieux and Roslovic.  On the benefit to Vesalainen watching from above.  What are the challenges to McDavid's explosiveness?  How much focus is on McDavid from a coaching perspective ahead of the game?  What does he think about the best player in the NHL debate?  What is the message to Vesalainen/Lemieux/Petan?