Note:  After the Jets game, be sure to check us out for all the post-game reaction. As soon as illegalcurve.com is updated we notify you via Twitter | Facebook | Instagram.
Jets news:
Winnipeg Sun:  Connor back in Jets' lineup.  The young winger is fortunate that the injury only cost him one game and it wasn't the one in his home state, in front of friends and family.  Ken sets up tonight's contest.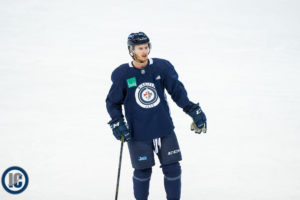 Winnipeg Free Press:  Hellebuyck gets the start in 'homecoming' game against Wings. (Paywall).  Lots of Michigan born players on this Jets squad will get their first opportunity to play in Little Caesars Arena.  Jason gets you ready for the game.
Illegal Curve:  Jets vs. Wings pre-game report.  Take a look at what happened at the rink this morning as Winnipeg gets ready to face Detroit at Little Caesars Arena tonight with a pre-game chat with Tyler Myers, Matt Hendricks, Kyle Connor and Jacob Trouba.
Illegal Curve:  Morning Papers.  If you missed any of the news we have you covered.
Jets audio:
Illegal Curve:  Coach Maurice pre-game scrum.  Thoughts on the new arena in Detroit.  Fun coming into a new rink?  On the Jets being fifth in goals against, how much is Hellebuyck vs possession vs better D structure?  On Jacob Trouba's role.  On why he thought Scheifele and Wheeler would work together.  On how they work on their game.  Brandon Tanev's game.  Importance of the start tonight.  On the process of re-tooling a franchise.