Note:  After the game, be sure to check us out for all the post-game reaction. As soon as illegalcurve.com is updated we notify you via Twitter | Facebook | Instagram.
Jets news:
Winnipeg Sun:  Olympic decision disappoints Jets.  Ken's pre-game column touches on the players disappointment in the NHL decision to not attend the Olympics and he also looks ahead to tonight's game.  Only change from the last game is in net as Michael Hutchinson gets the start.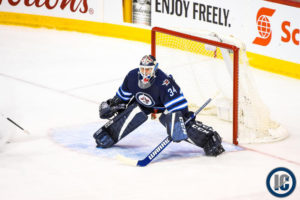 Winnipeg Free Press:  Wheeler, Laine disappointed with NHL verdict on Olympics.  (Paywall).  Seems to be a fairly common sentiment around the NHL these days when you listen to what the players are saying following the news that the NHL is out on the 2018 games in South Korea.
St. Louis Post-Dispatch:  Lehtera back in lineup as Blues look for first win this season vs. Jets. (Requires survey to read).  Get some insight into the Jets opposition from a beat writer that cover the Blues.
Illegal Curve:  Jets vs. Blues pre-game report.  Take a look at what happened this morning at the rink this morning as Winnipeg gets ready to face St. Louis at the Scottrade Center tonight.  Audio:  Blake Wheeler, Patrik Laine & Mark Scheifele.
Illegal Curve:  Morning Papers.  If you missed any of the news we have you covered.

Jets audio:
Illegal Curve:  Coach Maurice pre-game.  What has he liked about his team over the last stretch as they head into final week of the regular season?  Does he see a new sense of confidence in the room?  What has he noticed different about the Blues since coach Yeo took over? His reaction to the news about the Olympics?  Any lineup changes?