Note:  After the game, be sure to check us out for all the post-game reaction. As soon as illegalcurve.com is updated we notify you via Twitter | Facebook | Instagram.
Jets news:
USA Today:  Eight people facing pressure in final two months of NHL season.  Jets bench boss makes this list.
Winnipeg Sun:  Jets ready to show urgency.  Always like it when we get a new buzz word and urgency seems to be the new one around these parts.  Ken explains more in his pre-game article.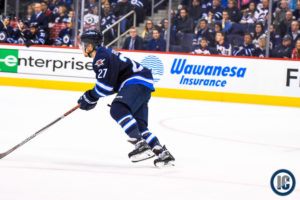 Illegal Curve:  Injury Update for Marko Dano is "almost…pretty soon".  While that headline doesn't sound too promising he is still well within the timeline we got back on December 31st.
Illegal Curve:  Jets vs. Stars pre-game report.  Take a look at what the Winnipeg and Dallas projected lines, D pairs and starting goalies will be for tonight's game at the MTS Centre.  Audio from Jacob Trouba and Nikolaj Ehlers.   
Illegal Curve:  Jets recall Julian Melchiori; Place Ondrej Pavelec on IR.  It has been a tough month for the defenceman who has played a grand total of one hockey game (this past Saturday for the Moose) as he had been on recall with the big club but unable to get into any game action. 
Illegal Curve:  Morning Papers.  If you missed any of the news we have you covered.
Jets audio:
Illegal Curve:  Coach Maurice pre-game scrum.  Any update on Enstrom?  Updates on Pavelec/Dano.  What is the biggest challenge the Stars present?  Playing with urgency.  Has he seen the level of urgency he wanted to see from his group?  Is he surprised that the urgency wasn't there for games like Colorado and Tampa?