Note:  After the game, be sure to check us out for all the post-game reaction. As soon as illegalcurve.com is updated we notify you via Twitter | Facebook | Instagram.
Note II:  News broke this afternoon that Jets prospect defenceman Logan Stanley had surgery today to repair a torn meniscus in his right knee.
Jets news:
Winnipeg Sun:  Jets hope to keep rolling against Ducks.  Paul sets you up for tonight's game. 
Winnipeg Sun:  Laine clears another hurdle.  Ken writes about Laine's impending return as well as some game story in this column.
ESPN:  Power Rankings.  Win a couple and make a major jump as Winnipeg went from 25th to 15th.
Illegal Curve:  Coach Maurice confirms Patrik Laine an option for game vs SJ.  I thought that we may not see him until Thursday in Chicago but he continues to progress well according to the Jets bench boss and is an option for tomorrow's game against the Sharks.
Illegal Curve:  Jets vs. Ducks pre-game report.  Take a look at what the Winnipeg projected lines, D pairs and starting goalie are for tonight's game at the MTS Centre.   
Illegal Curve:  Morning Papers.  If you missed any of the news we have you covered.
Jets audio:
Illegal Curve:  Coach Maurice pre-game scrum.  Improvement to Perreault's play, what does he attribute it to?  Putting Perreault with Wheeler and Little.  Is Pavelec OK?  How close are the Jets to finding and sticking to their "identity"?  Optional for D men missing as well?  Would he consider Pavelec for tomorrow's game as well?  What are some determining factors in potentially using Pavelec tomorrow?  Does he see much difference in the Ducks this year?  How do you prepare to face Ryan Kesler?  How did Laine respond to yesterday's skate?  What are the storylines that stand out for the Jets 50 games into the season?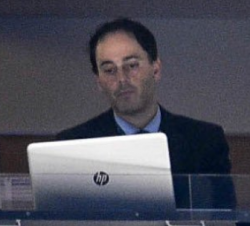 Latest posts by David Minuk (see all)