Note:  After the game, be sure to check us out for all the post-game reaction. As soon as illegalcurve.com is updated we notify you via Twitter | Facebook | Instagram.
Jets news:
Winnipeg Free Press: GM says some Jets have met, exceeded expectations in a tough league. (Paywall).  Past the 1/4 pole in the NHL season the Jets GM gives his thoughts on his young team.
Winnipeg Sun:  Jets aim to regroup against Wild.  As per usual Ken sets you up for the game with his pre-game story from St. Paul.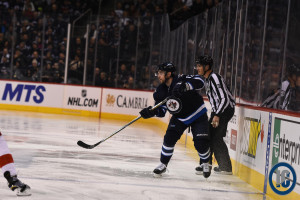 Minneapolis Star-Tribune:  Marco Scandella to return as Wild-Jets rekindle rivalry.  Get a perspective on the Jets opposition from a beat writer that covers the Wild.
Illegal Curve:  Winnipeg Jets Injury Report.  Stafford is off IR, Myers is on IR and we get updates on Kyle Connor and Bryan Little.
Illegal Curve:  Jets vs. Wild pre-game report.  Take a look at what the Jets and Wild projected lines, D pairs and starting goalies are for tonight's game at Xcel Energy Center. Jets Audio:  Jacob Trouba.
Illegal Curve:  Morning Papers.  If you missed any of the news we have you covered.

Jets audio:
Illegal Curve:  Coach Maurice pre-game scrum.  Is Stafford ready to go?  Keys for Stafford as he gets back into the lineup?  Added importance on these central division games, especially with how the road trip has gone?  What do they have to do to get pucks past Dubnyk?  Injury updates.  What has he liked about Trouba's return?  Howden being sent down.  On De Leo potentially getting into the lineup.  Parallel of De Leo to Armia (from last season).
Jets video:
#AskaJet pres. by @Fastsignswpg is back!@PatrikLaine29 answers your questions about Winnipeg, his stick, and the funniest guy on the team. pic.twitter.com/nUabOaLz0n

— Winnipeg Jets (@NHLJets) November 23, 2016