Note:  After the game, be sure to check us out for all the post-game reaction. As soon as illegalcurve.com is updated we notify you via Twitter | Facebook | Instagram.
Note II:  Coach Maurice provided an injury update (full pre-game chat here) a few hours before puck drop at Joe Louis Arena and the news isn't good.  Mathieu Perreault is day-to-day and Joel Armia is returning to Winnipeg to be further evaluated.
Jets news:
Sportsnet:  Can Mark Scheifele become a top-10 centre who scores 40 goals?  He has continued to meet expectations from a demanding fan base and they will only be too happy to see him achieve this mark.
TSN:  Jets Lunch. (Video).  TSN Jets analyst Shane Hnidy was a guest on Winnipeg Lunch and discussed the latest injury news surrounding the Jets and what should be expected from the players called up to fill out the roster.
Illegal Curve:  Jets are gauging trade interest in Alexander Burmistrov.  With the focus on Trouba and Pavelec we now have a new player to keep tabs on according to Gary Lawless of TSN and TSN 1290 Winnipeg who broke this news.
Winnipeg Sun:  Jets recall Petan, place Myers on IR.  With the defence as threadbare as it is you have to think that this Myers situation can really end up hurting the Jets since Jacob Trouba isn't exactly around to take that second pairing on the right-side.  We should have an idea from Coach Maurice about the severity at some point in advance of tonight's game.
Winnipeg Sun:  Bombers, Jets weigh in on U.S. election.  In an election this ugly I'm not surprised that folks don't want to attach their names to it.
Detroit Free Press:  Red Wings' Niklas Kronwall to make season debut tonight against Jets.  Read up about the Jets opponent tonight from a team beat writer that covers Detroit.
The Hockey News:  Injuries to Perreault, Armia are the last thing the Jets need right now.  No question about that.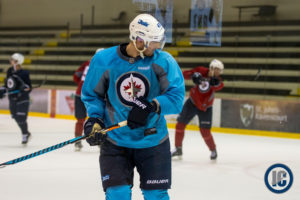 TSN:  Dreger Report.  The hockey insider for TSN doesn't feel that the expletive issue by the Jets bench boss with respect to the too many men penalty his team received in OT warrants a punishment by the NHL.
TSN:  A look at potential hot-seat situations across the NHL.  First up for Gary is Kurt Overhardt and Jacob Trouba.
Sportsnet:  The Jets need to stop playing from behind so much.  Apparently this season that isn't a problem the same as it has been in the past.  From Chris Curry of TSN 1290 Winnipeg we get this stat: "This season the Jets have come back from multi goal deficits in the 3rd 4 times already in just 11 games. In the previous four seasons they have a total of 4. If you go back all the way to when they returned 5 seasons ago they have 7."
Illegal Curve:  Jets recall Nic Petan from the Moose; Place Tyler Myers on IR.  Can the Jets injury list get any longer?  Seriously, just over a month in and the IR is full.  Luckily for Winnipeg the depth on the Moose is better and they have players to get called up.
Illegal Curve:  Jets vs. Red Wings projected lineups.  Take a look at what the projected lines looked like for the Jets as they didn't hold a skate.  The Wings did hit the ice so you can check out their projected lines, D pairs and starting goalie you could expect to see at Joe Louis Arena this evening.  Audio: Red Wings coach Jeff Blashill.  Jets will be available a few hours before the game for some pre-game audio.
Illegal Curve:  Morning Papers.  If you missed any of the news we have you covered.  
Jets audio:
TSN 1290 Winnipeg:  Donvito Roundtable.