Note:  After the game, be sure to check us out for all the post-game reaction. As soon as illegalcurve.com is updated we notify you via Twitter | Facebook | Instagram.
Jets news:
Sportsnet:  The value of acquiring NHL draft picks at the trade deadline.  No doubt that whenever you can stockpile picks it could help out an organization in the long run.
ESPN:  Jets still weighing options when it comes to Ladd.  All eyes are on Winnipeg as the rest of the league waits and watches what the Jets are going to do with the captain.
Winnipeg Free Press:  Ladd focuses on enjoying playing hockey while contract up in air.  (Paywall).  Was interesting to hear the captain say that this process dragging out has had the opposite effect on him and that he has been able to enjoy playing as we get closer to a resolution.
Winnipeg Sun:  Traded man walking.  This does have the feeling of an execution as we wait for that call from the Governor to either announce a stay of execution aka re-signing of Ladd (which seems unlikely) or no stay meaning he will be dealt before the deadline.  While the third option of waiting till this summer technically is also an option I don't see this as within the realm of possibility.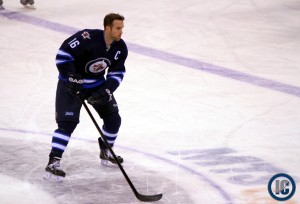 TSN:  No contract offers from Jets.  More on the situation with the Jets captain.
Sportsnet:  Ladd's final game in Winnipeg?  Everyone is talking about the Jets captain.
Illegal Curve:  Jets vs. Stars projected lineups.  Take a look at what the lines looked like after skate today and what combos you should expect to see at the MTS Centre this evening.  Audio includes Andrew Ladd and Blake Wheeler.  
Illegal Curve:  Morning Papers.  If you missed any of the news we have you covered.  
Jets audio:
Illegal Curve:  Coach Maurice pre-game scrum.  What are his thoughts on this being Ladd's potential final day?  How good a player is Andrew Ladd and how good has he been for the Winnipeg Jets?  What is the usual response when you put a guy in his contract year onto the 3rd line and what was Ladd's response?  What makes Andrew Ladd a good captain?  Status of Little.   How does he keep the Ladd situation from creeping into the room?  Has the team talked openly about the Ladd situation?  On facing the Dallas Stars.