Note:  After the game, be sure to check us out for all the post-game reaction. As soon as the site is updated we notify you via twitter @illegalcurve and Facebook.
Jets news:
Winnipeg Sun:  Superstitious feeling: Jets won't talk about playoff tickets until they're officially in.  Slightly ironic that you would sell season ticket holders playoff tickets but not discuss individual seats sales.  Of course I'm not a superstitious type so perhaps I'm missing something.  Paul also writes about possible round 1 preferences.
Winnipeg Free Press:  Jets well aware of what's at stake tonight in Colorado.  Ed files this report from the Pepsi Center in advance of the game.
Winnipeg Free Press:  Byfuglien glad suspension is almost over.  He sounded contrite but clearly didn't want to get into a big discussion about the hit seen around the league.
Winnipeg Sun:  Jets focused on game, despite chance to clinch playoff spot.  The team sure seems nonplussed by the magnitude of the game tonight in Colorado.
Winnipeg Sun:  Jets fan brandishes noose during game vs. Blues.  I realize that it took place in Missouri but I just don't think the intent was to be offensive.  I recall at the old Winnipeg Arena there was an older lady who sat a few rows in front of my families season tickets (section 129 I think) that used to brandish a ref with a noose doll. Of course the racial significance in Canada would be very different than how it would be perceived in the United States.
CBC:  Jets fever spreads across Winnipeg as team sits 1 win from playoffs.  The fever is spreading across the city and this is one that Jets fans don't want to end.  There may even be a Portage and Main gathering tonight if the team clinches a spot in the post-season tonight.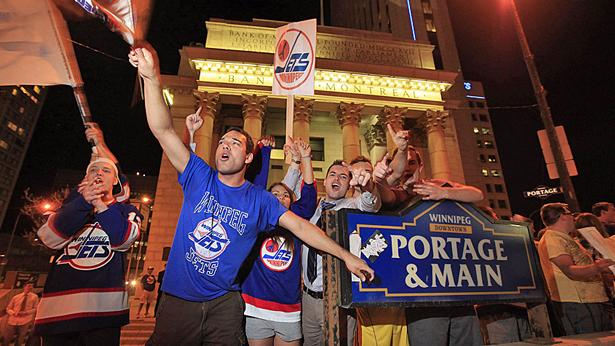 Illegal Curve:  Game Day Set-Up: Avalanche @ Jets.  Setting up tonight's Jets and Avalanche game with projected lines, starting goalies, game notes and more.
Illegal Curve:  Jets vs. Avalanche projected lineups.  Take a look at what the lines looked like after practice today and what combos you should expect to see at the Pepsi Center this evening.  Audio from Byfuglien, Ladd, Little and Stafford.
Illegal Curve:  Morning Jets Papers.  If you missed any of the news we have you covered.  
Jets audio:
Illegal Curve:  Coach Maurice pre-game scrum.  A loose, vocal group today.  How would he describe his team today?  How does he approach a win and they are in game?  What is the danger of playing a team like the Avalanche?  Does he like where his team is mentally?  On reaching his NHL game #1200 tonight.
TSN 1290 Winnipeg:  Jets Lunch.  Shane Hnidy previews the Winnipeg Jets Thursday night contest vs. the Colorado Avalanche.
TSN 1290 Winnipeg:  Jets Lunch.  Tim Campbell of the Winnipeg Free Press discusses how the Winnipeg Jets have been able to win games with key players out with injury.
 Avalanche news:
Denver Post:  Briere back in lineup, Everberg likely headed for shoulder surgery.  Read the latest on the Jets opponent from Avs beat writer.