Note:  Tune into the Illegal Curve Hockey Show on TSN Radio 1290 as the guys discuss all the latest Winnipeg Jets and NHL news starting at noon until 3 pm on Saturday.  Guests:  Michael Traikos (National Post), Mike Mazeika (Head Coach of Canada-Israel hockey school) and Mike Heika (Dallas Morning News).
Jets news:
Winnipeg Free Press:  Pleased, but hardly satisfied.  While the Jets have been hot, it bears keeping in mind that they are currently an eighth place team.  Even teams in first or second shouldn't rest on their laurels but they can generally afford to have a let down game.  Not so with your Winnipeg Jets where each game they play is critical to pushing them above that line.
Winnipeg Free Press:  Jets hit the road for rematch against Leafs.  This mini-road trip is going to be huge for the Jets.  If they can sustain their high level of play against two close rivals in the standings, they could be cruising when they return home for four games next week at the MTS Centre.
Winnipeg Sun:  Jets chat at 2pm.  Join the Sun writers to talk about the Jets.
CBC:  Sizzling Jets sizing up new rivals in re-alignment.  Some more analysis of what the Jets schedule will look like next season.
ESPN:  Need to know – Jets and Rangers study in opposites.  In the words of George Costanza "oh that game had cachet baby".
Illegal Curve: Coach Noel.  Injury update (Discussed Montoya).  Going with same lineup. Play of Ondrej Pavelec.  Inter-conference play builds rivalries.  Preparing for the Leafs, different because of their situation?  Keeping focus short term.  Phyiscal edge to the Jets play.  Improvement of Zach Bogosian.  Play of the lines together.  Not using the 4th line, concerning?  With Slater out, who becomes go to face off guy?  James Wright under the radar?  (coach made an interesting comparison to Guy Carbonneau who went from being offensive in AHL to defensive specialist in the NHL).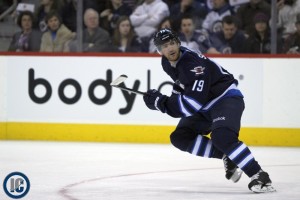 Illegal Curve: Players audio. Scrums from Pavelec, Antropov, Jokinen and Ladd.
Illegal Curve:  Morning Papers.  If you missed any of the Jets news from earlier, we have you covered.