Note: Tune into the Illegal Curve Hockey Show on TSN Radio 1290 as the guys discuss all the latest Winnipeg Jets and NHL news from 8 am to 11 am on Saturday (That is not a typo. With the Jets/Capitals game starting at 2pm, the guys are getting up early, for the second week in a row, to provide you with all the latest news). Guests: Pat Hickey (Montreal Gazette), Joe Beninati (CSN Washington) and Jeremy Weiss (Weiss Tech Hockey).
Jets news:
Winnipeg Free Press:  Noel says clean points are huge.  Playing the next four games against Southeast Division opponents will test this theory.
Winnipeg Sun:  Coach Noel not ruling out lineup changes.  While the Jets have been on a roll, coach Noel doesn't want his team getting complacent.

Illegal Curve: Coach Noel.  The Joy in Joyland continues. Today coach Noel had 400 screaming school kids at the MTS Centre along with the usual retinue of media.
Illegal Curve: Players audio. Scrums from Pavelec, Stuart, Wheeler and Ladd.
Illegal Curve:  Morning Papers.  If you missed any Jets news from earlier today, we have you covered.
Capitals news:
Washington Times:  Eric Fehr eager to show Jets what they're missing.  The Winkler product is showing the positive impact of the lockout as he appears fully healed and is playing well for the Capitals.  He has seven points in 16 games with the Capitals whereas he only had three in 35 games during an injury plagued 2011-12 season.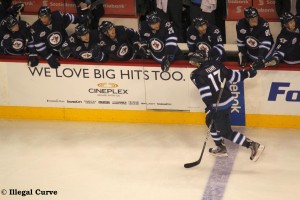 Washington Post:  Mike Green aggravates groin injury.  Won't be in Winnipeg for tomorrow's game.
NHL news:
Sportsnet:  Flames fortunate Avs matched.  This is just a bizarre twist to an already unusual story.