Lots of Alberta and Minnesota love to kick off next season as Winnipeg has released their pre-season schedule.  These are the exact same teams that Winnipeg played last year in the pre-season.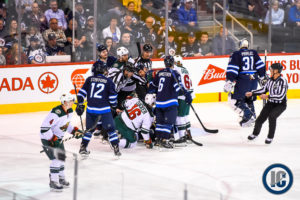 Another bonus to this schedule is that if you head down to Minnesota for the Wild game on the 8th of October you can also see a Vikings/Texans game on the 9th.
Locally the Winnipeg Blue Bombers will be hosting the Edmonton Eskimos in some CFL action on the 30th with start time about 30 minutes after the puck drops downtown.  There is also a Bombers home afternoon game on the 8th of October which starts at 3 pm.
Jets pre-season schedule:
Tue, Sept. 27 vs. Calgary Flames MTS Centre 7:00 p.m.
Thu, Sept. 29 vs. Minnesota Wild MTS Centre 7:00 p.m.
Fri, Sept. 30 vs. Edmonton Oilers MTS Centre 7:00 p.m.
Sun, Oct. 2 @ Calgary Flames Scotiabank Saddledome 8:00 p.m.
Mon, Oct. 3 vs. Ottawa Senators MTS Centre 7:00 p.m.
Thu, Oct. 6 @ Edmonton Oilers Rogers Place 8:00 p.m.
Sat, Oct. 8 @ Minnesota Wild Xcel Energy Center 7:00 p.m.
Jets Release:
The Winnipeg Jets are pleased to announce the club's seven-game preseason schedule for the upcoming 2016-17 NHL season.
Winnipeg will kick off its preseason at MTS Centre against the Calgary Flames on Tuesday, Sept. 27th followed by two more home games on back-to back nights at MTS Centre on Thursday, Sept. 29th against Minnesota and Friday Sept. 30th against Edmonton. The team will travel to Calgary on Sunday, Oct. 2nd, followed by the last preseason home game against the Ottawa Senators on Monday, Oct. 3rd. The Jets will wrap up their preseason schedule with a pair of road games on Thursday, Oct. 6th at Edmonton and Saturday, Oct. 8th at Minnesota.
Prior to the NHL preseason schedule, the Jets will play in the YoungStars Classic in Penticton, BC Sept. 16-19 against the Calgary Flames, Edmonton Oilers and Vancouver Canucks.