As you can see in our Poll (vote now) the Jets have seven forwards who could be playing for other teams once puck drops in October of this year.  GM Kevin Cheveldayoff will have his work cut out over the course of the next few months as he tries to decide who he wants to keep and how much it will cost him to get a deal done.
Here are the seven Jets forwards that are set to become unrestricted free agents:
1)  Jim Slater:
Slater was leading the team in face off percentage (58%) but the concern among many fans is that #19 has lost a step.  The Michigan native has been with the Thrashers/Jets organization since 2005-06.

A look at his numbers from last season:
GP: 82 G: 5 A: 8 P: 13.
2014/15 contract:  1.6 million.
2) Michael Frolik:
Is there anything he can't do?  If Bryan Little is Mr. Consistency than Michael Frolik should be Mr. Versatility since he was able to play on any line that he was tossed onto and helped the team produce.
A look at his numbers from last season:
GP: 82 G: 19 A: 23 P: 42.
2014/15 contract: 3.3 million.
3) Drew Stafford:
A member of the Minnesota mafia (although he was born in Wisconsin) he came onto the scene following the biggest trade in Jets 2.0 history back on February 11th, 2015 and hasn't looked back.  He was almost a point per game player following the trade (19 points in 26 games) and instantly became a fan favourite.  Describing himself as a guy from the Midwest who enjoys a smaller city, it isn't difficult to see that there could be a fit.
A look at his numbers from last season:
GP: 76 G: 18 A: 25 P: 43.
2014/15 contract: 4 million.
4) Matt Halischuk:
He has averaged close to 50 NHL games each of the past two seasons as he was used as an extra forward or thrown into the lineup whenever there was an injury in the bottom six.  He was injured and placed on the IR at the end of January this past season which kept him out of the lineup until the middle of March.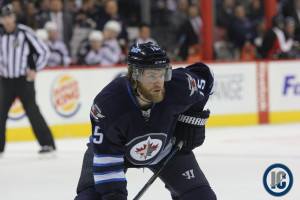 A look at his numbers from last season:
GP: 47 G: 3 A: 5 P: 8.
2014/15 contract: $725,000.00.
5) Lee Stempniak:
He spoke during his exit interview about being on the Jets radar last year before he signed a deal with the New York Rangers.  This season the Jets were able to secure the services of the New York State born winger.  Even if he doesn't come back he will forever be enshrined in Jets 2.0 trivia for scoring the first ever playoff goal at the MTS Centre.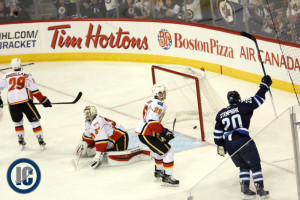 A look at his numbers from last season:
GP: 71 G: 15 A: 13 P: 28.
2014/15  contract: $900,000.00.
6) TJ Galiardi:
He was signed at the start of last August to add some depth but really didn't make a big impact on the lineup.  He only played 38 games with the big club and didn't seem to have the confidence of coach Maurice.
A look at his numbers from last season:
GP: 38 G: 1 A: 0 P: 1.
2014/15 contract: $750,000.00.
7)  Jiri Tlusty:
The third member of the Kladno contingent he had his first opportunity to play with his best friends growing up in Ondrej Pavelec and Michael Frolik.  While Pavelec is under contract for another couple of seasons, he could see Frolik depart and break up the trio (can't help but have the song "We're the three best friends" from the Hangover playing in my head as I wrote that).
A look at his numbers from last season:
GP: 72 G: 14 A: 17 P: 31.
2014/15 contract: 2.95 million.
*Worth noting that Anthony Peluso is an RFA and Eric O'Dell will be a Group 6 UFA.
In terms of coveted free agents only Michael Frolik cracked the Sportsnet list of top 15 UFA targets (which was written mid March) for this summer although Stafford and Tlusty were both 'on the radar'.
So of this list of seven which forward would you like to see the Jets retain?  Feel free to leave a comment or vote in our poll.