The news broke late last night when veteran TSN hockey insider Bob McKenzie tweeted the following:
Pains me to report this, but NHL closing in on landmark CDN TV deal with two CDN networks. Many years (10+), many billions. #overandout

— Bob McKenzie (@TSNBobMcKenzie) November 26, 2013
It was then revealed that Sportsnet had secured the deal with the NHL and this morning they announced a 12 year partnership with the NHL.  The press release opened with:
"Rogers Communications and the National Hockey League today announced a landmark 12-year broadcast and multimedia agreement that includes all national rights to NHL games on all platforms in all languages.  The agreement, the largest media rights deal in League history, begins with the 2014-15 season and continues through the 2025-26 season.  This marks the first time a premium North American-wide sports league has granted all of its national (Canadian) rights to one company on a long-term basis."
Of course this has Jets fans scratching their heads wondering how this will impact their team and the answer is minimally.  The Winnipeg Jets and TSN announced a 10-year deal for the regional rights back on September 6th, 2011.  Which means you will continue to hear Dennis Beyak and the rest of the TSN crew making the call for years to come.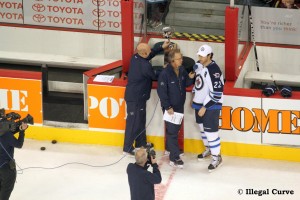 The present composition is as follows, namely;
TV – TSN Jets has a minimum of 58 games in a season; and
Radio – TSN 1290 Winnipeg has all 82 Jets broadcasts.
So fear not Jets fans as you are likely to be the least impacted fan base as this new partnership takes effect next season.
As always we welcome your input on this issue.