Is this finally the year for the Washington Capitals?  Will the Stanley Cup that has eluded them since their inception in 1974 finally come to the U.S. nation's capital? 
The questions that require answering by the Capitals as this upcoming season is about to get underway are the following, namely; 1) Does Alexander Ovechkin have enough of a supporting cast? 2) Will the goaltending situation sink the Caps chances for post season success? and finally 3) Can the improvements by their Southeast Division competition, knock them from the top, and prevent them from making the Stanley Cup Finals?
Forwards:
This Caps team that finished with 50 wins and 108 points saw some significant player changes during the off season.  Aging veterans Sergei Fedorov (KHL), Viktor Kozlov (KHL), and Donald Brashear (Rangers) are out and Brendan Morrison and Mike Knuble are in. 
Perhaps the biggest problem for the Capitals on forward is who they still have on the roster.  Michael Nylander, who they tried to move all summer, and his $4.875 million per season (3rd highest on team) is still on the team.  Despite not playing in most of the playoff games last season and no pre season games to start 2009/10, he remains a Cap. 
Not unexpectedly this team begins and ends with back to back winner of the Lester B. Pearson (outstanding player), Hart (MVP) and Maurice Richard (Most goals) trophies, Alexander Ovechkin.  This is his team and this is the year all the pressure is on him to win.
If there is one thing you take away from seeing him compete is that he doesn't like to lose.  But possibly even worse than losing is being upstaged and right now he isn't seen as the most dominant Russian player in the NHL. That title goes to his former rival turned quasi friend Evegeni Malkin of the Pens.  With Malkin and Crosby winning the Cup last season, expect Ovechkin to be playing with added incentive this season. 
The emergence of Alexander Semin and Nicklas Backstrom has really allowed the Capitals to go from a one trick pony, to a team with a number of dangerous weapons on forward.  Probably the most important change to Semin's game is he has gone from a -18 in 2007/08 to a  +25 in 2008/09.  Backstrom on the other hand is really developing nicely and should see an increase in his offensive totals this season.
Newly acquired Mike Knuble is expected to play with Ovechkin and Backstrom.  He adds some nice grit to this skill line but that isn't to say that he is unable to find the net himself.  He's had six straight 20+ goal seasons and brings some Stanley Cup experience to the team.  (he played for the Wings in 98 when they ironically knocked off the Capitals).
The second line should be comprised of Semin's quick shooting, matched with Brooks Laich who will play a similar role that Knuble does and is not afraid of going into the dirty areas to produce points.  Centering this line will be long-time Vancouver Canuck Brendan Morrisson whose passing ability should be an asset to Semin's scoring touch.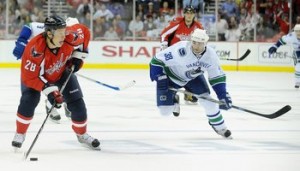 Rounding out a third, more defensive line would be Caps captain Chris Clarks (say that 4 times fast), David Steckel who was stellar as a member of the Hershey Bears and Quintin Lang.  Clark's worth is felt as much on the ice, as in the room and there is a reason he wears the "C' on this team.
Previously I had Lang on the 4th line but that was before the Caps put Chris Borque, son of hockey legend Ray Bourque on waivers (he was subsequently picked up by the Pens).  It looked as if the Caps were going to give him an opportunity but it appears that he is a casualty of the salary cap as Tarik El-Bashir reported;
The Caps plan to recall minor-league forward Boyd Kane to skate on the left side of the fourth line.

Coach Bruce Boudreau said Bourque was waived on Tuesday so that the Caps could squeeze under the salary-cap ceiling of $56.8 million.

But here's the kicker: Bourque earns $577,500 and Kane earns $500,000. So that means the Caps were less than $77,500 over the cap yesterday.
The fourth line which under Boudreau doesn't see a lot of playing time should be comprised of Boyd Gordon and Matt Bradley with Boyd Kane rounding out the trio.
Tomas Fleischmann remains sidelined indefinitely with a blood clot.  Winkler, Manitoba's Eric Fehr could step into the line-up once he is healthy.
Defencemen:
The Washington defence begins and ends with Mike Green.  Say what you will about his hair, it sure doesn't affect his play on the ice.  His numbers have grown increasingly gaudy as he matures.  In his first full season in 2006/07 he played 70 games and scored just 2 goals.  He followed that up with 18 goals in 82 games in 2007/08 and then 31 goals in 68 games last season. 
His partner in crime will likely be stay at home defenceman Shaone Morrisonn.  Unfortunately he has shown that he can be quite inconsistent.  He sometimes takes his game to a high level however when it isn't there he can be something of a liability, particularly for a veteran player.  He simply needs to be quick enough to make adjustments on the ice when Mike Green's speed takes him out of the play.
Tom Poti has really seen diminishing offensive totals as the years pass him by.  The formerly freewheeling defencemen has really slowed down due to injury although he does bring a nice ability to move the puck from his defensive zone, as well as through the neutral zone.   He is currently playing with physical Milan Jurcina who led the team with 131 blocked shots and hits (157).
The third and fourth line combos (the Caps are keeping 8 defencemen up) are likely to see a mix and match of different combo's as Boudreau's work out which is to be his final pairing.  Stephen Pepper over at Japers' Rink reported that
Erskine-Pothier and Sloan-Schultz were your third and fourth pairings at practice this morning.
Aside from Green this group is pretty unheralded but should be good enough to keep the Capitals competitive.  These guys aren't going to win you many games but at the same time, they won't likely lose you many games either.
Goaltending:
Perhaps the biggest question mark facing the Capitals this season is who will emerge as the number one goaltender on the team.  Coach Bruce Bodreau has been unequivocal in his support of veteran Jose Theodore.   The question is can he return to the form that saw him win Hart and Vezina trophies in 2002. 
If the Capitals hope to compete then they are going to need that type of play from Theodore.  This means he will have to improve on last season's 2.87 GAA (36th) and .900 save % (40th).  With a $4.5 million cap hit for one more season the soon to be free agent had best hope that he can return to form.
In case Theodore was to falter, his back-up will be last season's playoff darling Simeon Varlamov.  He is the rookie sensation that took over in the playoffs for Theodore and looked great, until he was exposed by the Penguins.  Despite Boudreau's shot of confidence don't be surprised to see him give Varlamov an opportunity if Theodore falters in any way.  His 4-0 regular season record gave way to a seven wins and six losses in the playoffs.  He is going to need more regular season seasoning before he is given the reins, unless the wheels totally fall off for Theodore, and then he will be thrown into the fire.
Finally 2006 Czech draft pick Michal Neuvirth took the team's AHL affiliate Hershey Bears to the Calder Cup Finals last season, where he helped to defeat the Moose in six games, winning MVP honors.  He was limited to five games for the Capitals last season compiling a 2-1 record.
Class of Competition:
Which leads us to the final question for the Capitals this season; Can the improvements by their Southeast Division competition, prevent them returning to the top of the Southeast?
Carolina Hurricanes – This is the one divisional team that can challenge Washington.  This is a group that has developed together, Stall is still improving and they could challenge the Caps.  While I still expect Washington to finish 1st, I don't anticipate the points differential being 11 as it was in 2008/09 between these two teams.
Tampa Bay Lightning –  As Rusty said in his preview their power play looks lethal, they can move the puck and the big guns look motivated.  Having Adam Oates to teach them PP skills should help.  I see them passing Florida and Atlanta but a lot really depends on goalie Mike Smith.
Florida Panthers – Young team without the scoring of Tampa.  Biggest question will be the play of goalie Scott Clemmensen.  We will find out if his win totals were a function of the Devils system, or his own talent.
Atlanta Thrashers– As I said in my Thrashers preview, the stars would need to align and Kovalchuk would have to play out of his mind for them to make waves this season.  Expect Evander Kane to be returned to Vancouver.  They will battle with the Panthers for the last spot. 
My Predictions:
Ceiling – This team should and could challenge for Eastern Conference supremacy.  As long as Alex the Great stays healthy, the surrounding cast steps up; there is no reason why these guys couldn't compete for the Cup.  Expect a 1st place finish in the Southeast and 1st-3rd in the East.
Floor – Injuries to Ovechkin, Semin Backstrom or Green would severely cripple this team.  They aren't one dimensional but with the loss of any of these four (especially A.O.) and the Caps offence would be extremely limited.  This could cause them to fall to 2nd in the Southeast and 6th in the East.
Capitals Blogger Thoughts:
In addition to the above analysis I thought it would be a good idea to get a quick thought from Caps bloggers.  Unfortunately their pens were mostly silent in response to my request.  Fortunately the #1 Caps blogger on the internet took the time to pass along his thoughts on the Capitals for this upcoming season. 
J.P. from Japers' Rink said:
It's easy to say, "It all comes down to whether Jose Theodore can rebound and/or Semyon Varlamov can prove he's the real deal," or "Their defense, as presently constituted, isn't quite good enough," and both of these assertions, to an extent, are true. But these are the same goalies and the same defense that won 50 games last year and that pushed the Champs to a Game 7… except they're all one year more experienced, one year hungrier. 
I think the real challenge for this Caps team will be staying reasonably focused over the course of an 82-game regular season and not picking up some of the bad habits they developed in February and March of last year that carried into the playoffs. The talent is there in spades – if this team wants to win and is willing to do what it takes to win, there's no reason they can't, and no reason they won't.