Kick start your week with the Monday Manitoba Moose Report, which fills you in on the latest news about the Jets AHL farm club.
(1) Moose Update
The Moose played three games on the road this week, losing one in regulation, another in a shootout, and the last in overtime. First, they lost 4-1 to the Ontario Reign (Los Angeles) – a team they have not beaten in three attempts this season – then lost both games in extra time to the Stockton Heat (Calgary), being outshot  50-31, and 47-26. Eric Comrie was spectacular in the first game against Stockton, making 49 saves on 50 shots, and stealing a point. Here's video of Eric Comrie making saves.
In terms of the playoffs, the Moose season is long over. But because this is a developmental league, where individual progress is as (or more) important than wins and losses, there are still plenty of Jets' prospects out there to monitor, like Josh Morrissey, Nic Petan, Chase de Leo, Jiri Fronk, and of course, Eric Comrie.
(2) Organizational Depth 
In October, 2015, this was roughly the depth chart of the Winnipeg Jets organization: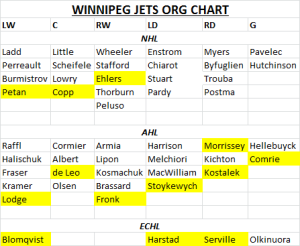 The players highlighted in yellow have never played pro hockey before – all of them played in either the Canadian junior league (CHL), against 16-20 year old's, or in US College hockey (NCAA), against 18-24 year old's. While some of those players had tremendous success in amateur hockey – Ehlers, Petan, and Morrissey being the best examples – the gap between the amateur and professional hockey is much bigger than some players – and most fans – would expect. With Petan moving down to the Moose in November, that gives the Moose 11 rookies who have suited up this season. When assessing the Moose's play this season, look no further than that; this league is dominated by players in their mid-20's, and the Moose are primarily a team made up of players who are <=22.
Here is the same type of organizational chart from the end of last season – April, 2015:
This time, the yellow highlighting means the players have departed. While it doesn't seem like anyone of great significance has left other than Frolik, the loss of depth and experience is staggering. Four of the top five scorers from last season went elsewhere, and arguably their top-4 defencemen all moved on – Ellerby, O'Neill, Brouillette, and Chiarot (with the Jets). Furthermore, last year's team wasn't strong to begin with, finishing with a record of 32-33-9-2, 12th in the Eastern Conference, and 12 points out of a playoff spot.
Why does all this matter? It shows that the Jets organization has done an exceptionally poor job recently of creating organizational depth at the pro level. While there are a number of good amateur prospects in the system – Connor, Lemieux, Roslovic, Spacek, etc. – there are very few pro prospects ready to step into an NHL lineup and make any kind of contribution to winning. There is a lot more to say on this topic, but suffice to say, the Lee Stempniak gaffe is only one of many decisions the Jets made last season which have hurt this year's Jets and Moose, and may continue to hurt these clubs in the next few years.