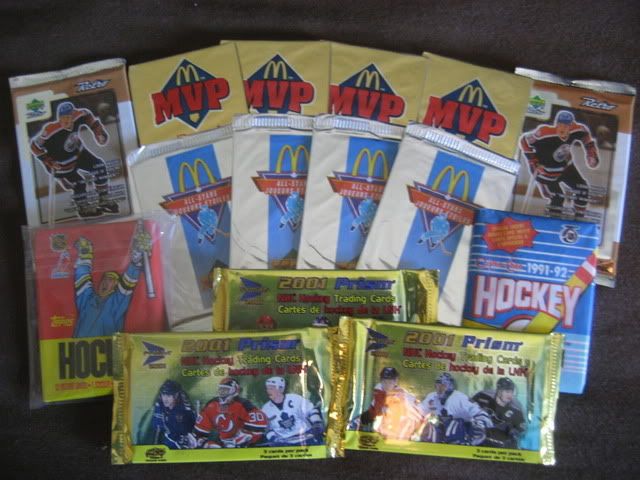 Here is Part II of our coverage of the hockey card industry.  Today's article looks at counterfeiting and how it has changed the hobby.  Jeremy Lee, a 30 year hobby veteran from Winnipeg who currently resides in Calgary returns to discuss the problem of counterfeiting within the industry. 
1. Tell us about the latest counterfeiting problem in the industry. Maybe first off, how did it come about?
Counterfeiting has been a problem in the hobby for several years now. In the mid-late 80's, the Gretzky O-Pee-Chee rookie card led the way as rookie cards began to establish themselves as the drivers of the hobby and counterfeit copies began to surface at card shows and in hobby stores. Several other key rookie cards were also counterfeited as the years went by. It was actually this problem that gave rise to Upper Deck in 1989. Upper Deck had come up with the idea of putting a small hologram on sports cards to thwart counterfeiters. And it worked. There has not been a single documented case of a counterfeited Upper Deck card. However, their product has not remained immune to card criminals. In around 1996, Upper Deck released the first jersey card; they embedding a swatch from a jersey into actual cards. This represented the first time in the hobby that copies of the same card could have a different appearance as there were differences in the colors and patterns of the embedded swatches. Collectors, as is their nature, began to attribute higher values to cards that contained swatches that were unique and contained more colors. For example a one-color swatch card would sell for less than the same card whose swatch contained two (or more) colors. Unscrupulous people who were involved in the hobby then realized that if they could acquire a one-color swatch card and augment it by replacing the fabric swatch with one that was more attractive, that they could make some quick and dirty money. This practice became rampant when jersey cards evolved to swatch cards a few years later. This problem has propagated to become an epidemic within the hobby and has caused many people to stop collecting for fear that they could acquire fake patch cards. 
2. I would imagine that the internet has been both a boon and a detriment to this controversy. How has it been both helpful and detrimental?
You are right; it has been both a boon and a detriment.  It has been a boon as it allows collectors to openly communicate and share information. And it has been a detriment because it allows the unscrupulous to anonymously dispose of their doctored patch cards with little chance of being caught.
3. How big of an issue is this considered to be by collectors?
Huge. Again, several people have quit collecting because of this issue. That causes long-term damage to the hobby. Some people don't care because they don't collect patch cards. But considering that all high-end rookie cards contain patches, and that rookie cards drive the hobby, this should be a major concern for the long-term health of the hobby. In my opinion, it all comes down to the integrity of our collections. Even though a card may be genuine, in five or ten years if I want to sell a high-end card, with a beautiful patch, and it comes from the "Fake-Patch Era", the perception that it may be fake will considerably decrease its market value and the ability to sell it.
4. In what capacity have you become involved in this?
I have been battling fake patch cards for three years now. I started by "collecting" card images from eBay and various online forums. I created an archive and made it public so others could see the various swatches that existed. One day, as I saved an image from eBay, I realized that I already had a saved image of this particular card. However, the swatch had changed. The serial number was the same and the autograph was an exact match, so I knew I had discovered a fake patch card. I started a thread on hobbyinsider.net to alert fellow collectors. Then, in late 2007 I created a website where people could send in fake patch reports that would form a database of all the known fake patches in the hobby. Within one month there were over 120 confirmed reports. Unfortunately this became overwhelming (I have a full-time job) and I had to abandon the site. 
5. How can this situation best be remedied?
There have been several ideas put forth of how to fix this problem. For example, using gorilla glue to bond the fabric to the cardboard, inserting ink blots that will destroy the card if tampered or placing a stitch through the card and patch. But the hobby generally accepts that the card criminals could find ways to overcome these obstacles. The best way to remedy this is for the card manufacturers to maintain a database of images of the cards. This way, prior to acquiring a patch card, a collector can refer to the database to ensure they are acquiring a legitimate card.
6. What is the biggest impediment to preventing counterfeiting?
Resources and technology. Considering the current economic environment, it is difficult for card companies to allocate resources to this issue. In addition, the criminal mind is often the most creative and they can figure out ways to beat the system.
7. Have the hockey card providers like Upper Deck stepped up to the plate? What have they done?
To date, not much. However, I recently challenged Upper Deck in a public forum. I said that if they didn't want to or could not capture images of their patch cards, that I would do it on my own time and dime. They took me up on my offer and invited me to their packaging facility in North Carolina to photograph the patch cards from the upcoming release of their pre-eminent brand – The Cup. This is a huge step in the right direction towards protecting the integrity of these important cards. In five days, I was able to capture images of 27,800 cards.
8. What are the bright spots for hockey card trading going forward?
The brightest spot is really the ability to forge new friendships with people who share the passion for card collecting. Every collector approaches the hobby differently. Being able to share these approaches and the collections that result is a great benefit. There are several online communities where collectors share their collections.
As for the cards themselves, they are simply gorgeous now compared to the past. I am not saying that vintage cards are ugly (although some are), rather, sports cards have evolved such that they do bring you closer to the players we watch play. When a card contains a piece of game-used jersey and an autograph, you know that the player wore than jersey on the ice and touched the card with his own hands – that is very cool!
As a group, collectors are always speculating about what the next innovation will be. As well, we look forward to the next year's rookie crop. In 2005-06, we saw the best rookie crop of all time with the likes of Crosby, Ovechkin, Getzlaf, Richards, Phaneuf, Perry, Carter, Vanek, Parise etc. Once the 2009-10 NHL season starts, we will get to see the first rookie cards of John Tavares, Victor Hedman and several other players that are highly anticipated.
Counterfeiting Trivia:
Jeremy provided me with these two screenshots.  Can you determine which is the fake?

I'd like to take this opportunity to thank Jeremy for answering all our questions.  I look forward to seeing the fruits of his labours from Upper Deck's facility in North Carolina.  If you missed Part I of this series about hockey cards, be sure to check it out.