Team New York is an interesting mix.  The 27th largest state in the union based on total geography, it ranks as the third in total population.  As a result one would expect that New York state would be well represented in the NHL.  Turns out that it currently ranks third, behind Michigan and Minnesota.  
Very talented group of forwards without alot of pop from the back end.  The goalie contingent looks like a future Red Wings goalie camp.  To complete our trio we had to coax a goalie out of recent retirement to have a full compliment of tenders.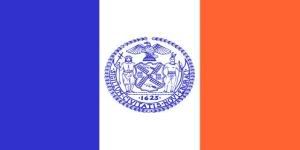 Coach: Ted Sator – Not to diminsh Mr. Sator, but it didn't appear that there was much competition.  Couldn't find any coaches with NHL, AHL or even College experience from NY.  He hasn't been in the NHL in over ten years and last coached in North America at the ECHL level with the New Orleans Brass.
Goalie:
1. Jimmy Howard
2. Robert Esche
3. Thomas McCollum
Defense:
1. Matthieu Schneider
2. Rob Scuderi
3. Mike Komisarek
4. Francis Bouillon
5. Matt Lashoff
6. Jay Leach
7. Kevin Quick
Forwards:
1. Craig Conroy
2. Erik Cole
3. Brian Gionta
4. Tim Connolly
5. Dustin Brown
6. Patrick Kane
7. Todd Marchant
8. Lee Stempniak
9. Chris Higgins
10. Nick Foligno
11.  Ryan Callahan 
12. Eric Nystrom 
13. Marty Reasoner 
Looking at the defence it has some Stanley Cup experience sprinkled with some extreme youth.  Can't expect alot of scoring from these guys.  Should help clear the puck though, and with the goalies of team New York, solid stay at home defence is what would be necessary for these guys to compete.
I see them paired as follows:
Schneider-Scuderi
Bouillon-Komisarek
Lashoff-Leach
I have Kevin Quick as my extra.
The biggest strength of team New York is the depth at forward.  These guys can all put the puck in the net.  Would expect the lions share of scoring coming from the first two lines.  I see the lines like this:
Cole-Conroy-Gionta
Brown-Connolly-Kane
Foligno-Higgins-Stempniak
Nystrom-Marchant-Callahan
Marty Reasoner is my extra guy.