This week we will be breaking down the Team USA's 2010 Olympic squad into the best Olympic State teams.  There are 6 U.S. states which have produced 71.5% of US hockey players playing in today's NHL(any guesses as to which 6 they are?).  Interestingly Michigan slightly edged Minnesota as the number one producer of NHL talent. 
This team has some very experienced upper management, great goaltending, older forwards and a solid but not flashy defensive core.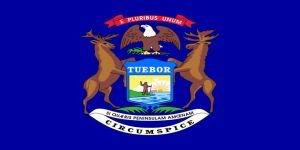 Coach: Dan Bylsma – While he probably isn't the most highly regarded person right now in Michigan after his Pittsburgh Penguins beat the Red Wings in the Stanley Cup, the pride of Grand Haven, Michigan would be my selection to lead Team Michigan.  While he doesn't have a tremendous amount of NHL coaching experience he seemed to get the best out of the Pens for the short period of time he had them.  Plus with Mike Illitch as owner and Craig Patrick as GM he will have plenty of experience around him.
Goalie:
1. Tim Thomas
2. Ryan Miller
3. Brent Johnson
Defense:
1. Brian Rafalski
2. James Wisniewski
3. Jeff Finger
4. Matt Hunwick
5. Matt Greene
6. Tim Gleason
7. Andy Greene
Forwards:
1. Mike Modano
2. Doug Weight
3. Brian Rolston
4. Dave Legwand
5. Mike Grier
6. David Booth
7. Ryan Kesler
8. David Moss
9. Chad LaRose
10. Justin Abdelkader
11. T.J. Hensick
12. Mike York
13. Kenny Ryan
With the exception of Brian Rafalski, don't expect much offence from this squad.  What you do get though is some physical toughness.  And if that isn't enough, James Wisniewski can provide the team with some clothing from his clothing line, WizWear to ensure Team Michigan is looking good.
I see them paired as follows:
Rafalski-Wisniewski
Hunkwick-Finger
Gleason-M. Greene
I have Andy Greene who has had some success in the AHL as my extra.
These forwards boast some serious two way players.  Kesler, Rolston, and Modano all know how to score as well as be responsible in their zone.  The forwards represent a Noah's Ark of college and jr. teams.  Plymouth Whalers, Michigan State, Michigan, Lake Superior State.  Would make for some interesting locker room chatter.  I see the lines like this:
Booth-Legwand-Rolston
Kesler-Modano-Grier
Moss-Weight-LaRose
Abdelkader-Hensick-York
Kenny Ryan is my extra guy.