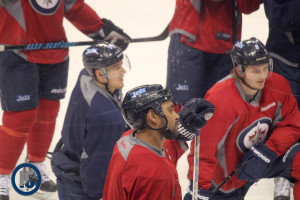 The Jets hit the ice at the Honda Center as they get ready for game 2 of the series against the Ducks.  According to Ken Wiebe of the Winnipeg Sun the Winnipeg lines were as follows:
Jets lines from skate:
Ladd-Little-Frolik
Stafford-Scheifele-Wheeler
Stempniak-Lowry-Tlusty
Halischuk-Slater-Thorburn
Chairot-Byfuglien
Enstrom-Myers
Stuart-Trouba
Pavelec
Hutchinson
Update:   Perreault and Pardy skated for Ladd and Myers today but coach Maurice confirmed that both players were taking maintenance days and will play tonight.  Coach said that Perreault is a game time decision.
Jets audio:
Mathieu Perreault – How does he feel?  Is tonight the night he is back?  Is it a pain management issue or concern of re-aggravating the injury?  Is this a re-aggravation of the injury from February?  How would he gauge his progress from yesterday to today?  How difficult was it watching Game 1?  Watching his new team playing his old team.  Feeling pressure to play?  Any talk of him playing but in a limited role?  Has he spoken to any of his old teammates?
Drew Stafford – Where do they miss Perreault in the lineup?  What do they need to do different from last game to succeed tonight?  What do they gain with getting a break (taking an optional) yesterday?  The focus on tonight's game.  Can the team crank it up another notch?  On the Ducks being able to match the Jets physicality.    
Audio courtesy of TSN 1290 Winnipeg.
According to Eric Stephens of the Orange County Register the Ducks lines will remain the same for game 2:
Maroon-Getzlaf-Perry
Beleskey-Kesler-Palmieri
Cogliano-Rakell-Silfverberg
Etem-Wagner-Jackman
Fowler-Beauchemin
Lindholm-Despres
Stoner-Vatanen
Anderson
LaBarbera
Ducks audio:
Coach Boudreau – What's important tonight?  On expecting a big push from Winnipeg.  On the team managing their emotions.  How does it effect the team when you have a goalie playing well?  On the play of Vatanen.  On the importance of faceoffs, is it on the centre or the play of the other four players.  What kind of an impact does it have when your 3rd and 4th lines have great possession numbers and how does it impact how he rolls the lines.  What are his expectations on the depth of his team?  Important to set the same physical tone in game 2?
Audio courtesy of TSN 1290 Winnipeg.