From TSN.ca:
The Ottawa Senators are on the hook for a $4 million signing bonus to forward Dany Heatley.

Like he did no Tuesday, the disgruntled forward declined to waive his no-movement clause to facilitate a trade to the Edmonton Oilers.
For complete story, click here.
We finally get some resolution. 
Heatley's refusal to go to Edmonton has really caused the Oilers a lot of pain as they a) waited to make free agent moves based on him and b) could have 3 very unhappy players on their hands.
From a Senators point of view they now have to pay him $4 million dollars, on top of the $10 million they paid him for last season, which means they paid $14 million for one season from Mr. Heatley.
With the Rangers apparently unwilling to give up young Marc Staal where o where does Heatley end up?   It would appear that the Rangers and Sharks are the two teams in the running.

The family friends speaking out on his behalf didn't gain him any public sympathy.  Instead he is being hit with scorn.  Even the family of Daniel Snyder has spoken out.
"I'm surprised (by the trade request) because he signed a long-term deal (with Ottawa) and was playing in a market that seemed to embrace him," Snyder said on Tuesday from his home in Elmira, Ont., near Kitchener-Waterloo.

"I was surprised (by his request from Atlanta, too, though) I could understand that one because I probably knew a few things that other people didn't that go on behind the scenes, and it was difficult for him.

"But on the other hand, the Atlanta Thrashers were very, very supportive of him. What (general manager) Don Waddell and the ownership did there for him — it's a pretty tough thing to repay. And he put them in a tight situation as well.

"I was surprised at it, but I understood it. This one, I really don't understand."
It would seem that Dany Heatley is public enemy #1 in Ottawa and quite likely Edmonton as well.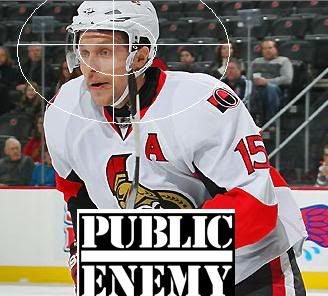 Of course we haven't heard from the most important person in this debacle and that would be the much maligned Dany Heatley.  Will he speak out?  Stay tuned to Illegalcurve for any and all breaking news.