Coming off a brief road trip which saw them win one of two, the Moose came home for a Monday night affair against the Iowa Wild (Minnesota). The Moose have a record of 1-1-2 against the Wild this year, but have lost the past two by a goal each. Eric Comrie got the start in goal, after Connor Hellebuyck started both games on the weekend, recording a shutout Friday, and allowing 6 on Saturday.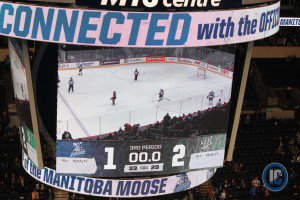 Key Plays of the Game (Game Stats)
First Period
The first period was quiet, with the Moose getting a few decent chances on the powerplay, and Nic Petan displaying a few flashy moves. Shots after one were 11-9 Moose.
Second Period
Halfway through the second, Jared Knight flew down the right wing and made a centreing pass to Zach Palmquist; Eric Comrie came across and made a terrific save to keep the game scoreless.
With only a few seconds left in the second, the Moose won the draw back, but a defender fell, leaving Marc Hagel alone in front; Hagel deked to the backhand and put it through Comrie's legs, scoring with .5 seconds left. 1-0 Wild.
Third Period
On the powerplay, the Wild worked the puck around and used a few cross-seam passes to get Comrie moving side to side. After a shot appeared to hit the post, Guillaume Gelinas collected the rebound and slid it home. 2-0 Wild.
With under two minutes left, Scott Kosmachuk ripped a shot from off the left post, and Austen Brassard nearly potted the rebound on a wrap-around.
With 1:30 to play, Patrice Cormier got a rebound from a Chase De Leo shot and put it past Leland Irving, narrowing the Wild lead to 2-1.
Tonight's Best Moose
Austen Brassard – Brassard was one of the only Moose players generating chances tonight. Slick hands, good vision, and a great release were all on display tonight. Brassard has 3 goals and 3 assists in his last 5 games, and has been one of the most consistent forwards on the club in the past 10-15 games.
Nic Petan – He came out flying in the first period, cutting through the defence with speed, and getting a few dangerous shots on goal. It's a nice change for a player who normally relies on vision and passing ability – sometimes to the point where he becomes a bit predictable. Petan came into the game leading the Moose in scoring, with 31 points through 43 games. (Now second to De Leo).

Injuries
Thomas Raffl and John Albert each sat out tonight's game. Albert didn't play on the two-game road trip, while Raffl continues to be snake bitten, as he is out with yet another injury sustained in practice. Josh Morrissey also left after the second period with what appeared to be a lower-body injury.
Post-game audio:
Coach Keith McCambridge
Patrice Cormier
Eric Comrie