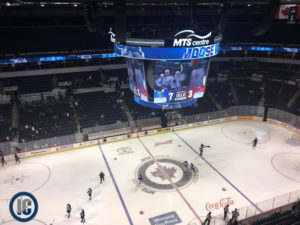 Facing last season's Calder Cup Champions – the Cleveland Monsters (formerly Lake Erie) – the Moose were seemingly in tough, missing Dano, Copp, and Melchiori to the NHL, and Kosmachuk, Kichton, and Cormier  to injury. But with superior depth they boast this season – especially up front – the Moose were able to pull out a gutsy, 7-3 victory, which was much closer than it appeared.
Scoring Summary
Cleveland Goal (1): Eric Comrie played the puck behind his net and made an ill-advised pass, which bounced off the skate of a forechecking "Monster", right onto the stick of his teammate – Justin Scott. Scott put the puck into the yawning cage.
Manitoba Goal (1): Jan Kostalek took the puck at the left point, walked the line, and fired a soft shot through traffic; Darcy Murphy – playing his first NHL game – hacked at the puck, and it squirted through Joonas Korpisalo.
Manitoba Goal (2): Off a broken play, the puck came to Peter Stoykewych at the right faceoff dot – he took a low wrist shot which beat Korpisalo low glove.
Cleveland Goal (2): A shot from the point was deflected neatly in front by Monsters' captain Ryan Craig.
Manitoba Goal (3): A great forecheck by Jimmy Lodge created a turnover, then Lodge himself passed the puck out front to a wide open Ryan Olsen, who went low glove on Korpisalo.
Cleveland Goal (3):  After a seemingly endless possession for the Monsters in the Moose zone, Cody Goloubef threw the puck in front, which ricocheted off Kevin Czuczman's leg and past Comrie. 

Manitoba Goal (4): While falling, Scott Glennie made a cross-ice pass to Quinton Howden, who was all alone in the slot – Howden took his time, and fired a hard shot, low blocker to give the Moose the lead, halfway through the third.
Manitoba Goal (5): This is all Jack Roslovic – on the PP, he took the puck below the left faceoff dot, spotted Nic Petan back door, and fired a crisp pass across the seem, which Petan just managed to bury past Korpisalo.
Manitoba Goal (6): A long-distance backhander by Quinton Howden – intended simply as a clearing shot while shorthanded – found an empty net.
Manitoba Goal (7): Another empty netter, this time by Jack Roslovic, as he beat the defender wide and fired it home.
Post-game audio:
Peter Stoykewych
Quinton Howden
Coach Vincent
Player Assessment:
GOALTENDER
Eric Comrie: A sub-par game for Comrie, by his standards. It isn't that he made many mistakes – aside from the mishandling of the puck behind the net, you couldn't fault him on either of the next two goals – but he just didn't look as comfortable or confident in making saves tonight. The puck bounced out of his glove on a few occasions, and his rebound control was a little off. That said, if this is an off-night, that says a lot about what kind of goalie he is.
FORWARDS
Jack Roslovic: He showed near-elite level skills on a few plays tonight – big-league playmaking abilities on the Petan goal, finding him back-door, and firing a perfect cross-ice pass; incredible hands and patience on another play, as he pulled out a ridiculous dangle on a defender who went down to try and block a shot (pretty sure it was a reverse toe-drag using the back of  the blade). He then tried a similar deke on the goalie, but simply ran out of room. He also picked off a pass in the offensive zone and set up Lemieux in front, but the latter wasn't able to bury. He may not always make the safest or smartest choice on the ice, but he has the hands, poise, and creativity to try – and pull off – plays that others wouldn't even consider attempting. Once he learns to pick his spots, he'll be a tremendous player at this level, and it might not be too long before he outgrows this league.
Quinton Howden: Nice game by Howden – he scored the game winner on a sneaky good wrister, created a breakaway with good speed which led to a penalty shot, and got the empty netter to put a bow on a nice evening. Depending on injuries at the NHL level (Perreault and Armia left tonight's game in Washington), he may be in the running for a call-up.
Chase De Leo: A somewhat quiet night for De Leo, but he stood out a little – he almost set up J.C Lipon for a nice goal at the end of the first – he got the goalie to bite but put it slightly into Lipon's feet. He also did some great work down low, protecting the puck from a defender and stopping and starting until he gained separation, creating a good scoring chance.
Nic Petan: Really forced a pass into the slot on the PP which got easily picked off and almost created a 2-on-1 against. Was a bit underwhelming at times, but scored the insurance marker which helped guide the Moose to victory.
Brendan Lemieux: Had a fairly quiet game. Created a nice chance for himself by picking off a clearing attempt in the Monsters' zone, batting the puck out of mid-air. Took the puck to the net hard with speed.

J.C Lipon: His usual aggravating self, he accidentally kneed a Monster's defender, which led to a fight. He later set up Lemieux in front of the net, and also drew a high-sticking call. Solid on the forecheck as always.
Jimmy Lodge: After sitting out the last few games, Lodge had by far his best game of the year.He made the Olsen goal happen off a great forecheck and pass – one of the two biggest plays of the game along with the Howden game winner. He looked far more comfortable tonight with the puck, and he looked to be skating a bit better than at the start of the season, and certainly better than last year.
Darcy Murphy: After starting his rookie pro season with Tulsa in the ECHL, he scored in his AHL debut. However, he also look outmatched at times, getting out-muscled by bigger players along the boards, especially in the defensive zone.

Scott Glennie: In just his second game of the season, Glennie started to look more confident with the puck. His best play of the game was a nice feed to Howden for the game-winner. 

Anthony Peluso: Using his big body well to protect the puck, but not making much of an impact overall.
Ryan Olsen: Scored an important goal to give the Moose what was then a 3-2 lead, but also took a foolish slashing penalty for no good reason. He needs to cut down on the those no-reason penalties.

Darren Kramer: A genuinely great guy to have around the team and fill in on the 4th line when needed, he was the 12th forward tonight, as he is most nights.
Lost to NHL: Marko Dano, Andrew Copp
Injured: Scott Kosmachuk, Patrice Cormier, Brandon Denham
DEFENCEMEN
Peter Stoykewych: Stoykewych is blossoming in his second season with the Moose. He's becoming a bigger factor on the offensive side of the puck, jumping into the play in the offensive zone on several occasions, including his snipe tonight – the first goal of his AHL career. His defensive play continues to be steady, using good anticipation to break up dangerous plays near his crease.
Jan Kostalek: Showed good poise at the point, creating the first Moose goal. Continues to be a different player from his rookie self last year – far more poised, assertive, and involved in the play. Very good signs for his development as a young defenceman of just 21.
Kevin Czuczman: Was noticeable on a few occasions, carrying the puck well into the Monsters' zone. Posted three assists on the night, though all were secondary assists where he didn't create the play. He continues to be an important part of the powerplay, but playing a little less at even-strength.

Jake Baker: He played top-4 minutes tonight and was virtually mistake free. He uses his 6'5, 225 pound frame well to break up plays – strength and reach are his calling cards. His skating is also pretty good for his size. He's a very nice depth player for the organization, and continues to improve in just his 13th AHL game.
Nelson Nogier: Playing on the third pairing, he's a regular member of the PK. The 20-year-old rookie continues to ease his way into pro hockey.
Jordan Hill: Signed as a depth defender, Hill suited up for his second game of the season. He wasn't noticeable, which as the 9th defeneman on the depth chart, is probably a good thing.

NHL: Julian Melchiori
Injured: Brenden Kichton, Brian Strait
Lines

Murphy-De Leo-Lipon
Howden-Petan-Glennie
Lemieux-Roslovic-Peluso
Kramer-Olsen-Lodge
Baker-Stoykewych
Hill-Kostalek
Czuczman-Nogier
Comrie
Pavelec