The Manitoba Moose have experienced some serious woes this season.  From January 1st to February 21st they played 23 games and had just seven wins.  Now most of these games were fairly close contests so it wasn't as if they were being blown out on a nightly basis but the losses were piling up nonetheless.
On February 22 at the MTS Centre the Moose and IceHogs battled it out to a 1-0 shootout win for Rockford but it was a game that seemed to spark Manitoba.  They subsequently reeled off four straight wins and were poised to win their fifth straight as they were up two heading into the 3rd period on Saturday night in Milwaukee.  However two quick goals mid way through the final frame followed by one in OT gave the Admirals the win. They ended the road trip with a 5-3 loss in Chicago meaning the Moose have gone 4-1-1-1 in their last seven games.
During this time rookies Jack Roslovic, Kyle Connor and Dan DeSalvo have been catching fire leading the Moose right now in scoring with sophomore Chase De Leo in fourth, so this is clearly a team that is being led offensively by their youth.
The hottest of the three is Kyle Connor who has really elevated his game in the last half dozen Moose contests.  Going back to that shootout loss on February 22 against the IceHogs, Moose bench boss Pascal Vincent was highly complimentary of the game Connor was playing telling us post-game "I thought that was his best game of the year so far.  He was on the puck, he was fighting to get the pucks back.  He was driving the net.  He was using his skills properly, his hands, his speed, supporting the puck.  There is a part of his game that is improving quite a bit, it's his defensive awareness and he was good, his stick was good, in the right position.  If he does that right we're going to get the puck back faster.  I thought he was the best player on the ice tonight."  While Connor didn't score he did account for eight of the Moose shots that evening.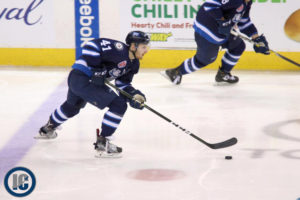 Since that shootout loss the Moose have gone 4-1-1 and in that time no player has been hotter than Kyle Connor.  He has ten goals in those six games including the first ever home hat trick for the Moose 2.0 (fourth ever for Manitoba as a team) which he achieved against the Rampage on the 25th.  Following that contest the Moose bench boss was highly complimentary of the rookie saying "He keeps progressing.  He's stronger on the puck.  He gets the puck more.  He is finding his rhythm.  I think he's figuring out how to build his speed on the breakouts and neutral zone at this level.  He is a smart player, he studies this game.  He knows what he needs to work on.  He knows what he is good at.  Last two games, I think he has been pretty good."
Consider that in his first 32 AHL games he had eight goals and now has 10 in his last six games (along with three assists) and it is quite clear that the 1st round pick in 2015 (17th overall) is certainly ratcheting up his offensive game.  He sits 26th for rookies in AHL scoring but when you consider he has played a lot fewer games than most of his fellow rookies if you look at the points per game with guys who have played 30 or more games he sits 7th overall in the AHL.
The Moose points leader is Columbus born rookie Jack Roslovic who has been consistent for this team all season long.  The Jets second 2015 1st round pick has 11 goals and 25 assists in 50 games for Manitoba as the centre continues to earn the trust of his coach.  Pascal Vincent plays Roslovic in all situations including power play, penalty kill, end of the game protecting a lead or when he's trying to tie the game for his club.  Of late however the young centre, who broke a 15 game goalless streak, has been producing getting a couple of goals (including this beautiful feed by Kyle Connor and one timer by Roslovic – watch it here) and six assists in the last five Moose contests.
Play by play voice of the Moose Mitch Peacock caught up with Roslovic in advance of their game against Rockford last week to talk about his game and why it seems to have picked up of late "I think I've been on a good track, on a good path for most of the second half, so just trying to keep it going".
As a college player the most games he had ever played in a season was 36 last year with Miami University (Ohio).  Despite the fact that he is already at 50 for the Moose (with 17 remaining) as well as all of the games he played for Team USA at the World Juniors, he isn't showing any signs of fatigue this season.  In fact, you can see his game has gotten stronger as the season progresses.
Last up is 24 year old rookie Dan DeSalvo who is finally on an AHL deal with Manitoba.  Similar to Roslovic, he too was in a bit of a goal slump but after going 13 games without lighting the lamp he has two goals and four assists in his last six games.  DeSalvo from Rolling Meadows, Illinois went undrafted by the 30 NHL teams.  He played four years of college hockey followed by a year in the ECHL which concluded with 17 games with the Moose to close out 2015-16.  He began 2016-17 in the ECHL but only lasted 12 games before Manitoba came calling once again which eventually led to an AHL deal.  We had Penguins Associate GM Jason Botterill on the Illegal Curve Hockey Show (starts at 57 minute mark) yesterday who spoke about players in their system who were originally on AHL only deals (Conor Sheary & Carter Rowney) and were able to turn those into NHL contracts.  While there is no guarantee that DeSalvo could achieve this it shows you the power of hard work and perseverance, regardless of where you are drafted (or even if you were not).
Overall DeSalvo's 14 goals and 16 assists have him sitting one back of Kyle Connor for second on the team in points and 28th overall in the AHL rookie scoring race.
Interestingly these three all play on different lines as coach Vincent likes to spread out the offence so for the last four of the six games of this streak the lines that these three have been on are:
Connor-Cormier-Lipon
Tanev-Roslovic-De Leo
Lemieux-DeSalvo-Kosmachuk
Manitoba will have to hope these rookies stay hot as they try to catch the Iowa Wild (eight points up) for a playoff spot.
Note:  This article was written prior to the 3 pm game on today in Chicago but all stats have been updated to reflect the 5-3 Moose loss to the Wolves in which Jack Roslovic and Kyle Connor scored a goal.
For the latest Moose coverage be sure to give me a follow on twitter: @icdave.