As a Winnipeg Free Press reporter noted a few weeks ago, "these aren't your older brother's Manitoba Moose". The Moose are indeed a new team this season – one that is capable of controlling play for long stretches, out-chancing their opponents, and winning in decisive fashion. An influx of quality veterans, led by Buddy Robinson, Mike Sgarbossa, and Cam Schilling, along with talented rookies – Sami Niku, Mason Appleton, Michael Spacek, and Jansen Harkins – have given the Moose far more skill and depth than they've had at any point since returning from St. John's, Newfoundland in the fall of 2015. Their improved play is reflected by their record – a 4-3-1-1 start to the year, 4th place in the Central Division; a positive goal differential – 30-25 (which includes a goal against attributed from a SO loss); and perhaps the most telling sign – a positive edge in shots: 287-279. (In the past two seasons, the Moose were routinely out-shot, and often by wide margins).
October Results & Standings
Goaltending
Eric Comrie has a record of 2-2-0-1, with a 2.60 GAA, and .910 save %. He had a tough first outing against last year's Calder Cup Champions in Grand Rapids, letting in 5, but followed that up with a very solid performance at home against Cleveland, allowing just 1 goal.  He was tremendous in his fourth start of the season, allowing just 1 goal on 37 shots against Chicago, and was named 1st star. His other two starts were mediocre, allowing 3 goals in each; he also allowed 4 shootout goals in his most recent start against Belleville. Overall, Comrie's has been decent to start the year, but he can, and likely will play better.
Michael Hutchinson has a record of 2-1-1-0, with a 2.77 GAA, and .918 save %. He played well in his two wins, allowing 2 goals each to Grand Rapids and Iowa. He was a bit porous in a start against Cleveland, allowing 4 on just 29 shots. Most recently, he allowed 3 goals on 37 shots in an OT loss against Belleville where the Moose held a 2-0 lead after the first period. Hutchinson let in a weak first goal (bad rebound), then played tremendously well for the next 30 minutes until he was beaten late in the game on the tying goal, and again in OT. Like Comrie, he's had his moments, but he too can play better at this level.
Player Updates
If you haven't seen Sami Niku play yet, what are you waiting for? The more you watch him, the more shocking it is that he was once a 7th round pick (2015). He's a silky smooth skater, and about as elusive with the puck as defencemen get at this level. He makes smart decisions with the puck, especially for a rookie who's supposed to be adjusting to a new league and a new country. He doesn't have a booming slapper, but he reliably gets the puck to the net through traffic. He's really helped solidify the top-4D, pairing with veteran Julian Melchiori.  Does he need to get stronger? Yes, but that goes for just about everyone under 24 playing pro hockey in North America. He's fun and impressive to watch, and he may not need as much time in the minors as originally expected. He turned 21 on October 10, and at this time next year, he may have a real shot at that third pairing left defence slot, especially if it's vacated by Toby Enstrom on July 1 as many expect.
While Niku is the biggest treat to watch among the new Moose, Mason Appleton is certainly the biggest revelation. A 6th round pick in 2015, Appleton played two years in the NCAA, including a sophomore season where he put up 31 points in 35 games. While few knew what to expect from Appleton as an AHL rookie, 8 points in 9 games, and a spot in the top six has to be considered a best-case scenario so far for the 21-year-old young winger. Not only are the points there early in his pro career, but his game has proven surprisingly well-rounded – he already has pro size at 6'2, 200 lbs, and is able to win puck battles against much older players. His skating stride is good, and there's room to improve his speed as his legs get stronger. What's stood out most about him thus far are his vision and poise with the puck – skills that he's demonstrated on multiple occasions. And the fact that he's adapted so quickly from the NCAA to the AHL level is frankly a bit surprising – most rookies typically aren't able to translate their skills so quickly to the higher level, especially for players like Appleton, who wasn't a high draft pick, and was never considered a blue-chip prospect. The one grain of salt here is that he's playing with two seasoned AHL'ers in Robinson and Sgarbossa, with Robinson being the biggest driver of the line's success. Still, Appleton is more than holding his own, as he leads the Moose in primary assists in their four home games, with three.
It's hard to believe that Jack Roslovic could be considered old news, especially considering that he's just 20 years old, but with so much success from several new faces, he's been out of limelight to some degree. That said, there's still so much to like about this skilled, two-way centre iceman. Roslovic remains the most talented prospect on the Moose roster, armed with tremendous speed, high-end puck control, and the vision and passing ability of a top-6, playmaker at the NHL level. While he hasn't found as much chemistry with his new wingers since Kyle Connor was called up to the Jets, his two-way game is making strides. His back-checking and ability to create takeaways was noticeable in the games against Belleville this past weekend, and his game continues to mature as he plays big minutes in every situation – #1PP, #1PK, and top-6 minutes at even-strength. While there's no rush for Roslovic to get to the next level, if he continues to progress at his current rate, it may be difficult for the Jets to keep him down next season.
Not only does Buddy Robinson have the best GIF game in town, but he's leading the team in goals, points, *shots per game, *points per game (*among active players), and very likely, takeaways. You'd probably expect a 26-year-old, AHL forward who's 6'6, 230 to have issues with skating – well, no issues here. Buddy moves very well for a guy his size. Well then, to be that big, and skate well, you'd expect him to have stone hands – not so! He's no sharpshooter, but he can definitely bury the puck, and he can make a pass too. That leaves what, defensive liability…? Well, he's been extremely dangerous on the PK, and has shown a great ability to create turnovers which lead to dangerous chances. Beyond a quick glance at the stats, I don't know what Buddy Robinson's career looked like up until now, but he's been the best Moose player on several nights this season, and is contributing in every way possible. It's early, but he's team MVP for October, without question. The one thing to keep in mind with Buddy is that he's already 26, and in his fifth pro season, so although his play has been excellent, he doesn't have the same upside as the 20 and 21 year old's on this roster. Bottom line: he's a call-up option, not a prospect.
Coming into the season, expectations were probably higher for 20-year-old forwards Michael Spacek & Jansen Harkins, than for Mason Appleton. Both were stand-out players in junior, particularly Spacek, who scored 85 points in just 59 games last season in Red Deer. But thus far, each of them has played primarily in the bottom six, and has had trouble staying healthy. Harkins missed the first three games of the year before coming back and scoring a beautiful goal in his first game on home ice. He's been a reliable player in all zones, but his stats will likely suffer as long as he's playing centre on the 4th line and getting limited minutes on the powerplay. Meanwhile, Michael Spacek started out the year in the middle-6, but was moved down in the lineup as Mason Appleton's play soared. Then he got hurt in the first game against Belleville on the weekend, when he ran into the backside of 6'6 d-man, Ben Harpur. Prior to that, Spacek was starting to establish himself on the second powerplay unit, where his vision and puck control will be huge assets. With Connor likely to stick with the Jets, and Lemieux also still up with the big club, both Harkins and Spacek will provide important depth for the Moose if they can stay healthy. They both have some NHL potential, but they're likely to spend a few years each in the AHL.
October Point Streaks
-Mason Appleton is currently on a 5-game point streak – 1 goal, and 7 assists
-Buddy Robinson has a 4-game point streak – 4 goals, and 4 assists
-Sami Niku had a 5-game point streak from Oct. 7 – Oct. 21 – in that time, he had 6 assists
-Jack Roslovic had a 4-game point streak from Oct. 7 – Oct. 20 – 3 goals, and 3 assists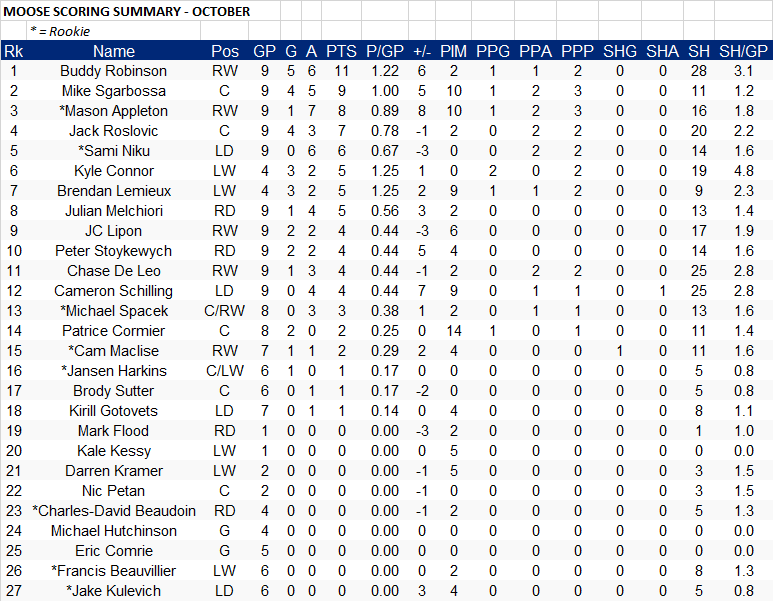 Most Recent Lineup
Robinson-Sgarbossa-Appleton
Petan-Roslovic-De Leo
Beauvillier-Cormier-Lipon
Kramer-Harkins-MacLise
Niku-Melchiori
Schmidt-Stoykewych
Gotovets-Beaudoin
Comrie/Hutchinson
Infirmary
-C/RW Michael Spacek suffered an upper-body injury in Friday night's shootout loss to Belleville when he ran into 6'6 Ben Harpur. His condition is unknown, but it seems likely that it's a head injury
-RD Nelson Nogier hasn't played a game yet this season due to shoulder injury suffered in the first exhibition game. He's out long-term (4-5 months)
-RD Jan Kostalek hasn't played a game yet this season either. He's considered week-to-week