Defenceman Nelson Nogier will miss four to six months of the season according to voice of the Moose Mitch Peacock.  Manitoba Moose head coach Pascal Vincent indicated that the injury to Nogier occurred in the first shift of the first exhibition game.  The coach says he will keep Nogier occupied mentally with game tapes and special assignments to continue the learning/growing process.  The end goal coach Vincent says "is to have him ready mentally when he comes back and just having to work on his conditioning so we speed up the process when physically he is ready to go."
Nogier played his first pro season with Manitoba last year and was recalled by Winnipeg on an emergency basis in March of 2017.  He played 10 games in the NHL with the Jets.  He was drafted in the 4th round (101st overall) of the 2014 NHL Entry Draft by Winnipeg.
As always stay tuned for the latest Winnipeg Jets and Manitoba Moose news by keeping it locked to illegalcurve.com and on social media including Twitter | Facebook | Instagram.  And you can follow me on twitter as well (@icdave).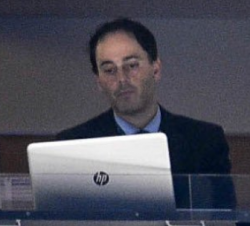 Latest posts by David Minuk (see all)