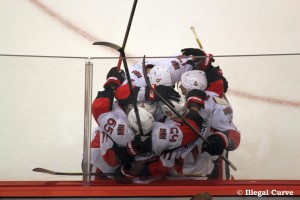 Game Stories:
Winnipeg Free Press:  Senators down Jets 6-4.
Winnipeg Sun:  Time for Jets to start turning off lights.
The Globe & Mail:  Sens crush Jets playoff hopes.
CBC:  Jets lose to Senators on home ice.
NHL.com:  Jets fall short in 6-4 loss to Sens.
TSN:  Loss to Sens may have sealed Jets playoff hopes.
ChrisD.ca:  Playoff hopes slip away in 6-4 loss.
Post-game audio:
Winnipeg Jets:   Pavelec, Slater, Ladd, Kane and coach Noel.
Ottawa Senators:  Daniel Alfredsson and coach MacLean.
Post-game podcast: Host Drew Mindell and Analyst Richard Pollock break down all the action in the postgame podcast.
Video Highlights:

NHL.com 3 Stars
1.  Erik Karlsson
2.  Antti Miettinen
3.  Craign Anderson