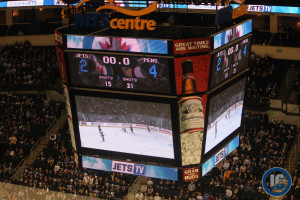 Game Stories:
Winnipeg Free Press:  Fore! Here come the Jets.
Winnipeg Sun:  Penguins freeze Jets out of playoff race.
CBC:  Jets eliminated from playoff race by Penguins.
NHL.com:  Penguins clinch division title, then top Jets.
Pittsburgh Post-Gazette:  Penguins clinch first in Metropolitan Division, defeat Jets, 4-2.
Pittsburgh Tribune:  Bennett, Martin score in Penguins' win.
Post-game audio:
Winnipeg Jets: Jacob Trouba, Evander Kane,  Adam Pardy and Zach Redmond.
Pittsburgh Penguins:  Sidney Crosby, Paul Martin and Coach Bylsma.
Coach Maurice post-game presser: Coach Maurice met with the media following the game against Pittsburgh.
Post-game podcast from the Press box: Analyst Richard Pollock breaks down the Jets play against the Penguins.
Video Highlights:

NHL.com 3 Stars
1. Sidney Crosby
2. James Neal
3. Adam Pardy