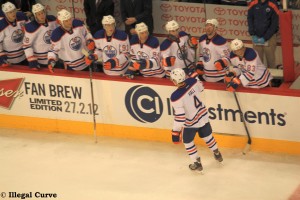 Game Stories:
Winnipeg Free Press:  Oilers too slick for Jets.
Winnipeg Sun:  'Worst loss of year' stings Jets.
The Globe & Mail:  Rivalry renewed, Oilers trump Jets.
Edmonton Journal:  Oilers score four third-period goals to down Jets.
CBC:  Oilers play spoilers in Winnipeg.
TSN:  Oilers use offensive outburst to defeat Jets.
NHL.com:  Oilers rally to beat Jets 5-3.
ChrisD.ca:  Old times as Oilers dump Jets 5-3.
Post-game audio:
Winnipeg Jets:   Ondrej Pavelec, Nik Antropov, Alexander Burmistrov and Kyle Wellwood.
Coach Noel: Post-game press conference.
Edmonton Oilers: Devan Dubnyk, Taylor Hall, Lennart Petrell and coach Renney.
Illegal Curve: Post-game podcast. Host Drew Mindell and analyst Richard Pollock break down the game.
Video Highlights:

NHL.com 3 Stars
1.  Taylor Hall
2.  Devan Dubnyk
3.  Alexander Burmistrov