Game Stories:
Winnipeg Free Press:  Jets defeat Oilers 5-4 in season opener.
Winnipeg Sun:  Jets dump Oilers 5-4 in season opener.
CBC:  Frolik leads Jets' late rally over Oilers.
NHL.com:  Jets spoil Eakins' debut with win over Oilers.
Edmonton Journal:  Jets score three unanswered goals to beat host Oilers in season-opener.
Edmonton Sun:  Jets blow past Oilers in 3rd period.
Coach Noel post-game: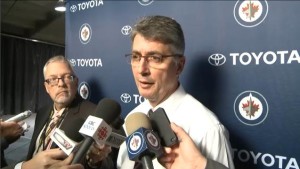 For Coach Noel's comments click here.
– We are happy we got the win. The two PP goals they got, we didn't look towards. Goal from Frolik was key.
– "I thought the Scheifele line had a good night. They helped us." (Interesting he see's it as Scheifele line).
– "I thought Trouba was outstanding. For a young player, in his first NHL game, I thought he was terrific".
– "I thought Pavelec really came up big at key times"
– "I thought he (Buff) played hard. Did a lot of good things in the game".
Video Highlights:
Video – Still waiting for it.
NHL.com 3 Stars
1.  Jacob Trouba
2.  Michael Frolik
3.  Jesse Joensuu