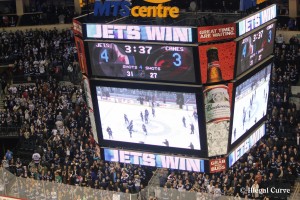 Game Stories:
Winnipeg Free Press:  Jets score OT decision over Hurricanes.
Winnipeg Sun:  Jets hold on against Canes.
National Post:  Jets gain ground in playoff race with overtime win over Hurricanes.
NHL.com:  Jets gets overtime win to keep pace in the East.
Winnipeg Jets:  Getting closer.
ChrisD.ca:  Fifth win in a row springs Jets playoff hopes.
News and Observer:  Hurricanes fall to Jets 4-3 in overtime.
Post-game audio:
Winnipeg Jets:  Andrew Ladd, Blake Wheeler, Zach Bogosian, Ron Hainsey, Dustin Byfuglien and Ondrej Pavelec.
Coach Noel post-game presser. Following his team's 4-3 win over the Hurricanes, coach Noel spoke with the media.
Carolina Hurricanes:  Coach Muller and Tuomo Ruutu.
Illegal Curve Post-game podcast from the Press box: Guest Host Michael Remis and Analyst Richard Pollock break down the Jets play against the Hurricanes.
Video Highlights:

NHL.com 3 Stars
1. Blake Wheeler
2. Ondrej Pavelec
3. Tuomo Ruutu