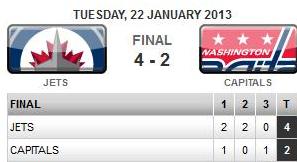 Game Stories:
Winnipeg Free Press:  Jets skate to first victory of the season.
Winnipeg Sun:  Jets beat Capitals 4-2.
TSN:  Kane, Wheeler power Jets' offence in win over Capitals.
Globe and Mail:  Jets see offence soar in victory over Caps.
NHL.com:  Jets spoil Capitals' home opener with 4-2 win.
Jets official Site:   Jets 4 Capitals 2.
Coach Noel Audio (Courtesy of TSN Radio 1290):
Coach Noel –  Road trips.  Positive things he saw during games.  Power play prowess.  Line juggling.  Compete levels of all lines.  Players recognizing things needed to win. What did he like better about Wheelers game tonight?  Play of Enstrom.  First impressions of James Wright.  Does he feel for Capitals coaching staff?  Consistency of Evander Kane.

Video Highlights:

NHL.com 3 Stars
1.  Evander Kane
2.  Tobias Enstrom
3.  Ondrej Pavelec