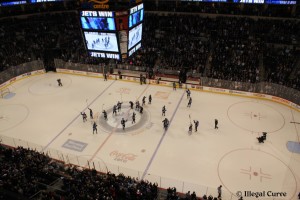 Game Stories:
Winnipeg Free Press:  Ladd seals win for Jets over Rangers.
Winnipeg Sun:  Jets beat Rangers, now alone in last playoff spot.
National Post:  Jets move closer to playoff spot after win over Rangers.
ChrisD.ca:  Jets hop into playoff picture with 3-1 win.
NHL.com:   Jets top struggling Rangers 3-1.
Jets site:  Jets top Rangers.
Newsday:  Rangers leapfrogged by Jets after 3-1 loss in Winnipeg.
New York Times:  Jets send Rangers to their second straight loss.
Post-game audio:
Winnipeg Jets:  Ondrej Pavelec, Andrew Ladd, Zach Bogosian and Ron Hainsey.
New York Rangers:  Coach Tortorella, Ryan Callahan and Henrik Lundqvist.
Illegal Curve Post-game podcast from the Press box: Guest Host Michael Remis and Analyst Richard Pollock break down the Jets play against the Rangers.
Video Highlights:

NHL.com 3 Stars
1.  Ondrej Pavelec
2.  Dustin Byfuglien
3.  Henrik Lundqvist