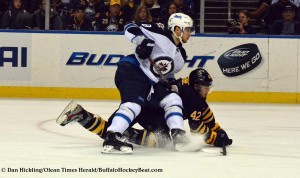 Game Stories:
Winnipeg Free Press:  Jets edge Sabres, end losing skid.
Winnipeg Sun:  Jets rattle Sabres, hold on for win.
Globe and Mail:  Pavelec celebrates 200th career game with win over Sabres.
NHL.com:  Win by Jets drives Sabres to team meeting.
Olean Times Herald:  Sabres jeered throughout ugly loss.
Buffalo News:  Fans voice their displeasure.
Buffalo News:  Lots of grumpiness after head-scratching grounding by Jets (Sabres audio).
Post-game Stats:
– Bogosian led all Jets skaters in Time on ice with 23:30
– Jets killed all 3 power play opportunities against.
Video Highlights:

NHL.com 3 Stars*
1.  Jason Pominville
2.  Andrew Ladd
3.  Bryan Little
*How Pavelec and Wheeler were not in the above list is beyond me.