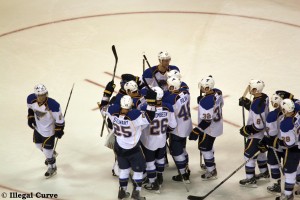 Game Stories:
Winnipeg Free Press:  Blues down Jets 3-2 in shootout.
Winnipeg Sun:  Jets lose in shootout.
The Globe & Mail:  Jets edged by Blues in shootout.
St. Louis Dispatch:  Halak backstops victory.
Missouri Sports Magazine:  Perron saves Blues in SO.
CBC:  Blues topple Jets 3-2 in shootout.
TSN:  Blue Saturday.
NHL.com:  Perron, Halak helps Blues escape with shootout win.
ChrisD.ca:  Halak helps Blues clip Jets 3-2.
Post-game audio:
Winnipeg Jets:  Chris Mason, Blake Wheeler and Andrew Ladd.
Coach Noel: Post-game press conference.
St. Louis Blues: Jaroslav Halak, David Perron, coach Ken Hitchcock.
Illegal Curve: Post-game podcast. Host Drew Mindell and analyst Richard Pollock break down the game.
Video Highlights:

NHL.com 3 Stars
1.  Blake Wheeler
2.  Jaroslav Halak
3.  Dustin Byfuglien