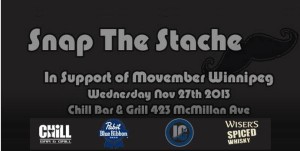 What are you doing on Wednesday, November 27th?
Hopefully your answer is joining Illegal Curve in support of Movember Winnipeg (check out our Movember progress here) as we present Snap the Stache  which watching the Jets and Islanders game.  The event will be taking place at the Chill Bar and Grill, located north of Confusion Corner at 423 McMillan Avenue.
We will be snapping pictures all night of all those beauty staches and sharing them with the Hashtag #SnaptheStache. Don't worry though as you don't have to be sporting a moustache to participate. Everyone is welcome to have fun and enjoy Movember with all the Mo Bros and Mo Sistas.
We will be giving away a ton of prizes including Jets tickets, samples from Pabst Blue Ribbon and Wiser's as well as tickets to the Movember Gala Parte on Saturday, November 30th at The Pyramid Cabaret.
They are even introducing a Special Movember Drink- The Bosch, named after Former Winnipeg Jet Laurie Boschman.
(Shot of Wiser's Spiced Vanilla Canadian Whiskey and Amaretto).