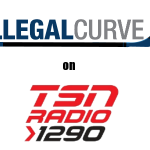 The NHL is back and running after the all star break, and The Illegal Curve Hockey Show will attempt to match the pace of the league, Saturday, beginning at 12 Noon on TSN 1290.
With the Jets playing the second half of back to back games Friday night versus the Panthers, IC will start the show by breaking down the aftermath of tonight's contest, and analyze the impact on the standings, to see if the Jets move to within a point of the Southeast Division lead.
Our first guest, at 12:30 PM, is Neil Greenberg of the Washington Post & ESPN. Neil covers the Washington Capitals, one of the squads the Jets are in a dog fight with to capture first overall in the Southeast. Furthermore, the Jets play the Capitals next Thursday, so what better of a time to catch up on the goings on in the U.S. nation's capital.
At 1:00 PM, we will be joined by Pat Hickey of the Montreal Gazette. The Jets play in Montreal on Sunday, as the opponents for the Habs during the traditional pre-Super Bowl matinee. With the Habs continuing to struggle, and the expectation that significant changes are to come at season's end, we catch up with Pat about the roller coaster of a year it has been in La Belle Province.
Additionally, everyone's favourite Illegal Curve cast member, Ezra Ginsburg, is in Montreal for the Jets-Habs game, so he will, sobriety providing, be joining us for the last segment of the program.
Additional guests may be added, so stay tuned to this post and our Twitter page for news on that front.
All that, plus your tweets, emails and (maybe, but not likely) phone calls (204-780-1290). Best tweets and emails will receive exciting Illegal Curve merchandise!
Join us Saturday from 12 Noon – 300 PM on TSN 1290 in Winnipeg and online at tsn.ca/Winnipeg