In case you were not one of the fortunate 1700 people inside Max Bell Arena today celebrating the Goal for Dreams charity game, we have some pictures and videos to give you an inside look at the events of the day.  The event raised $80,000.00 for charity.
Things got started with the Illegal Curve Hockey Show on TSN Radio 1290 at noon.

Shea Weber joined the boys to talk.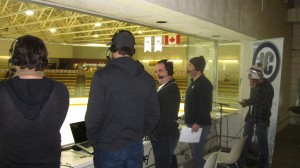 To hear what Shea had to say on our show;
Captain Andrew Ladd came on the radio to talk about the charity game.

To hear what Andrew had to say on our show;
And the final guest was local NHLer and Stanley Cup champion Jonathan Toews.

To hear what Jonathan had to say on our show;
Big lineup waiting for autographs.

Near the front of the line for autographs.

The sold out crowd was getting into it before the game even started.

Team Ladd lined up.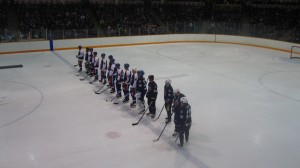 Team Stuart waiting for the anthem to start.

Introducing #1 pick Chris Mason.

Two #19's – Jim Slater and Jonathan Toews are presented to the crowd.

The Golden Jet Bobby Hull and the 1st captain in Winnipeg Jets 1.0 history Ab McDonald drop the puck.
Post-Game Audio: