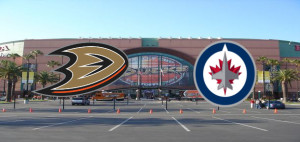 When: Monday, March 31st, 2014
Time: 9:00 p.m. CST
Where: Honda Center, Anaheim, California
Records: Winnipeg Jets (33-33-9, 12th in the Western Conference), Anaheim Ducks (48-18-8, 2nd in the Western Conference)
Television/Radio: TSN-JETS, KDOC/ TSN 1290 Radio
On the Horizon: Tuesday, April 1st on the road against the Phoenix Coyotes (9:00 p.m. CST).
Last Game: 4-2 road loss to the Los Angeles Kings

Top Scorers:
Winnipeg Jets: Blake Wheeler (26 goals, 37 assists, 63 points), Bryan Little (22 goals, 38 assists, 60 points), Dustin Byfuglien (20 goals, 34 assists, 54 points), Andrew Ladd (22 goals, 29 assists, 51 points), Olli Jokinen (16 goals, 24 assists, 40 points)

Anaheim Ducks: Ryan Getzlaf (30 goals, 51 assists, 81 points), Corey Perry (38 goals, 38 assists, 74 points), Nick Bonino (19 goals, 27 assists, 46 points),  Mathieu Perreault (18 goals, 21 assists, 39 points), Andrew Cogliano (21 goals, 17 assists, 38 points)
Game Day Notes:
– Heading into tonight's game, the Jets sit in 12th place in the Western Conference, nine points behind the Phoenix Coyotes for the 8th and final playoff spot.
– Tonight is the fourth game of a five game road trip for the Jets. The Jets are 1-2 on the trip so far. The Jets plays Phoenix tomorrow (Tuesday, April 1st).
– The Ducks won their last game, 5-1 over the Vancouver Canucks on Saturday and are 5-4-1 over their last 10 games.
– On Sunday, the Jets recalled Defenseman Ben Chiarot, Defenseman Zach Redmond and Goaltender Michael Hutchinson from the St.John's IceCaps of the American Hockey League.
– Ondrej Pavelec will get his second straight start in goal for the Jets. Al Montoya was not at Monday morning's skate which means Pavelec will be backed up by Michael Hutchinson tonight. Pavelec was pulled during Saturday's game against Los Angeles after allowing three goals on 18 shots.
– Frederik Anderson will start his second straight game in goal for the Ducks tonight. Anderson stopped 31 of 32 shots against the Canucks Saturday.
– Jets defenseman Keaton Ellerby did not practise Monday morning (lower body) and will not play tonight. Zach Redmond will replace Ellerby in the line-up. Redmond has six goals and 15 assists in 37 games with the St.John's IceCaps this year. Redmond has played in three games with the Jets this year.
– Jets forward Devin Setoguchi will be a healthy scratch tonight for the third game in a row.
– Ducks defenseman Cam Fowler leads the team in average ice time (23:54/game) which ranks 31st most in the NHL. Tobias Enstrom leads the Jets in average ice time (23:55/game) which ranks 30th in the NHL.
-The Ducks average 10.8 penalty minutes/game which ranks 15th in the NHL. The Jets average 12.4 penalty minutes/game which is 24th in the NHL.
– Who's Hot: Ducks forward Ryan Getzlaf has one goal and six assists in his last five games. Ducks forward Corey Perry has two goals and five assists in his last five games. Jets forward Blake Wheeler has three goals and four assists in his last five games.
– Who's Cold: Olli Jokinen has one assist in his last six games.
Special Teams Breakdown:
– Anaheim has the 20th Ranked Power Play in the NHL (16.6%) and the 17th Ranked Penalty Kill in the NHL (81.6%)
– Winnipeg has the 24th Ranked Power Play in the NHL (15.6%) and the 9th Ranked Penalty Kill in the NHL (83.7%)
Starting Goalies:
– Ondrej Pavelec (20-25-6, 3.01 GAA, .902 Save Percentage)
– Frederik Andersen (17-5-0, 2.20 GAA, .926 Save Percentage)

Projected Winnipeg Jets Line Combinations:
Andrew Ladd-Bryan Little-Michael Frolik
Dustin Byfuglien- Olli Jokinen-Blake Wheeler
Evander Kane- Eric O'Dell-Matt Halischuk
Eric Tangradi- Jim Slater-Anthony Peluso
Mark Stuart- Jacob Trouba
Tobias Enstrom- Paul Postma
Adam Pardy- Zach Redmond
Ondrej Pavelec
Michael Hutchinson
Scratches: Devin Setoguchi
Projected Anaheim Ducks Line Combinations:
Jakob Silfverberg-Ryan Getzlaf- Corey Perry
Patrick Maroon-Mathieu Perreault- Teemu Selanne
Andrew Cogliano-Saku Koivu- Daniel Winnik
Kyle Palmieri-Nick Bonino- Matt Beleskey
Hampus Lindholm- Ben Lovejoy
Stephane Robidas- Luca Sbisa
Francois Beauchemin- Sami Vatanen
Frederik Andersen
Jonas Hiller
Healthy Scratches:
Injury Report:
Anaheim Ducks: Mark Fistric (lower body), Cam Fowler (leg), Sheldon Souray (wrist, out for season)
Winnipeg Jets:  Grant Clitsome (back, out for season), James Wright (ankle), Mark Scheifele (knee), Chris Thorburn (out indefinitely), Zach Bogosian (upper body, day-to-day), Al Montoya (lower body), Keaton Ellerby (lower body)