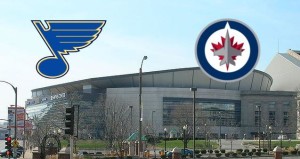 When: Monday, March 17, 2014
Time: 7:00 p.m. CST
Where: Scottrade Center, St.Louis, Missouri
Records: Winnipeg Jets (31-29-9, 11th in the Western Conference), St.Louis Blues (46-14-7, 1st in the Western Conference)
Television/Radio: FS-MW, TSN-JETS/ TSN 1290 Radio
On the Horizon: Wednesday, March 19th at home against the Colorado Avalanche (7:00 p.m. CST).
Last Game: 7-2 home win over the Dallas Stars

Top Scorers:
Winnipeg Jets: Blake Wheeler (23 goals, 33 assists, 56 points), Bryan Little (20 goals, 34 assists, 54 points), Dustin Byfuglien (19 goals, 33 assists, 52 points), Andrew Ladd (19 goals, 29 assists, 48 points), Olli Jokinen (16 goals, 23 assists, 39 points)

St.Louis Blues: T.J. Oshie (17 goals, 37 assists, 54 points), Alexander Steen (30 goals, 23 assists, 53 points), Jaden Schwartz (21 goals, 30 assists, 51 points),  David Backes (21 goals, 26 assists, 47 points), Alex Pietrangelo (8 goals, 38 assists, 46 points)
Game Day Notes:
– Heading into tonight's game, the Jets sit in 11th place in the Western Conference, four points behind the Dallas Stars for the 8th and final playoff spot. Dallas has played two fewer games than Winnipeg.
– The Blues defeated the Nashville Predators 4-1 in their last game Saturday night and are 7-2-1 over their last 10 games.
– After tonight, the Jets play six of their next eight games on the road.
– Blues winger T.J. Oshie may not play tonight as he was at a local hospital Monday awaiting the birth of his child.
– Al Montoya will make his second consecutive start in net for the Jets tonight. Montoya stopped 25 of 27 shots against Dallas Sunday night.
– Defenseman Alex Pieterangelo leads the Blues in average ice time (25:33/game) which ranks 8th most in the NHL. Tobias Enstrom leads the Jets in average ice time (24:01/game) which ranks 28th in the NHL.
-The Blues average 12.8 penalty minutes/game which ranks 26th in the NHL. The Jets average 12.2 penalty minutes/game which is 23rd in the NHL.
– Who's Hot: Blues forward T.J. Oshie has three goals and five assists in his last seven games. Jets forward Dustin Byfuglien has six goals and two assists in his last five games.
– Who's Cold: Devin Setoguchi has no points in his last seven games.
Special Teams Breakdown:
– St.Louis has the 6th Ranked Power Play in the NHL (20.7%) and the 2nd Ranked Penalty Kill in the NHL (86.3%)
– Winnipeg has the 26th Ranked Power Play in the NHL (14.5%) and the 5th Ranked Penalty Kill in the NHL (85.0%)
Starting Goalies:
– Al Montoya (11-5-3, 2.19 GAA, .925 Save Percentage)
–  Ryan Miller (21-22-4, 2.57 GAA, .924 Save Percentage)  

Projected Winnipeg Jets Line Combinations:
Andrew Ladd-Bryan Little-Michael Frolik
Evander Kane- Eric O'Dell-Devin Setoguchi
Dustin Byfuglien- Olli Jokinen-Blake Wheeler
Matt Halischuk- Patrice Cormier-Anthony Peluso
Zach Bogosian – Tobias Enstrom
Mark Stuart – Jacob Trouba
Adam Pardy – Keaton Ellerby
Al Montoya
Michael Hutchinson
Scratches: Paul Postma, Matt Halischuk
Projected St.Louis Blues Line Combinations:
Jaden Schwartz-Alex Steen- David Backes
Patrik Berglund- Vladimir Sobotka-Dmitrij Jaskin
Brenden Morrow- Derek Roy- Steve Ott
Chris Porter-Maxim Lapierre- Ryan Reaves
Alex Pietrangelo- Jay Bouwmeester
Kevin Shattenkirk- Barret Jackman
Ian Cole- Roman Polak
Ryan Miller
Brian Elliott
Healthy Scratches:
Injury Report:
St. Louis Blues: Vladimir Tarasenko (hand, out at least six weeks), Magnus Paajarvi (upper body), Jordan Leopold (ankle), T.J Oshie (personal)
Winnipeg Jets:  Grant Clitsome (back, out for season), James Wright (ankle), Mark Scheifele (knee), John Albert (upper body), Ondrej Pavelec (lower body), Chris Thorburn (out indefinitely), Jim Slater (lower body)