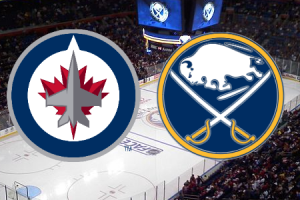 When: Saturday, January 7, 2012
Time: 6:00 p.m. CST
Where: First Niagara Center, Buffalo, New York
Records: Winnipeg (19-16-5), Buffalo Sabres (18-18-4)
Television/Radio: CBC,MSG-B/ TSN 1290 Radio
The Story: To say that the Winnipeg Jets have struggled so far on their current four-game road trip would be a huge understatement.  Earning a victory tonight against the Buffalo Sabres has just increased in significance.
The Jets have lost their last two road games by a combined score of 11-3.  After losing 7-3 in degrading fashion to the Montreal Canadiens on Wednesday night, the Jets went in to Toronto and were blanked 4-0 by the Maple Leafs. Heading into tonight's match-up with the Sabres, the Jets hold down 10th place in the Eastern Conference with 43 points, two points behind the Leafs for the 8th and final playoff spot.
The reality for the Jets is quite simple moving forward: they must improve their record on the road.
Tonight marks the official halfway point of the season for the Jets and with a record of 19-16-5, one could say that the first half of the season has been relatively successful. However, when you consider that the Jets have only won five of their 20 road games this year, the conversation inevitably changes. The Jets are playing awful away from their home arena and with 13 of their next 19 games on the schedule on the road, it will come down to how this team is able to turn things around away from home, where they are 14-6-1.
The Sabres, early season favourites to be Stanley Cup contenders, currently sit in 11th place in the Eastern Conference, only three points back of the Jets. The Sabres lost to the Caroina Hurricanes 4-2 last night and are in the midst of an injury-riddled stretch that has seen the Sabres win three of their last 10 games. High-profile free agents Christian Ehrhoff and Ville Leino have been major disappointments so far this season and have both been out of the line-up recently with injuries. It should be noted that Ehrhoff will be out for several more weeks with an upper-body injury but Leino could be back as early as tonight (Leino has missed the last nine games with a broken foot).
The Jets announced this morning that Patrice Cormier and Bryan Little will be in the line-up for the Jets against the Sabres. Tim Stapleton (flu) and Alexander Burmistrov (mid-body) will be scratches.
Ondrej Pavelec is expected to get the start in goal tonight for the Jets. Chris Mason played in net against the Leafs on Thursday night.
Projected line combinations:
Goalie:
Ondrej Pavelec
Forwards:
1st: Evander Kane-Bryan Little- Blake Wheeler
2nd:  Andrew Ladd- Nikolai Antropov- Eric Fehr
3rd:  Tanner Glass- Jim Slater- Chris Thorburn
4th:  Kyle Wellwood- Patrice Cormier-Antti Miettinen
Defence:
Ron Hainsey- Tobias Enstrom
Zach Bogosian-Johnny Oduya
Mark Stuart-Randy Jones
Offensive Leaders:
Buffalo Sabres: Jason Pominville (14 goals, 28 assists, 42 points), Thomas Vanek (19 goals, 21 assists, 40 points) and Derek Roy (eight goals, 16 assists, 24 points)
Winnipeg Jets:  Evander Kane (18 goals, 12 assists, 30 points), Blake Wheeler (seven goals, 23 assists, 30 points) and Dustin Byfuglien (6 goals, 18 assists, 24 points).
Injury Report:
Buffalo Sabres: Christian Ehrhoff (upper body, indefinitely), Andrej Sekera (upper body), Derek Roy, Colin Stuart, Tyler Ennis (ankle, day-to-day)
Winnipeg Jets:   Byfuglien (knee) is day-to-day for Winnipeg, Derek Meech (lower body) is day-to-day, Stapleton (flu), Burmistrov (mid-body)
Who's Next: The Jets have two days off after tonight's game before they play the Boston Bruins on Tuesday, January 10th (6:00 p.m. CST) which will end their four-game, nine-day road trip. The Jets return home for two games starting on Thursday, January 12th against the San Jose Sharks (7:30 p.m. CST) and then on Saturday, January 14th against the New Jersey Devils (2:00 p.m. CST).
QUICKIES……With Thursday's 4-0 loss against Toronto, the Jets have now lost six straight times in the second game of back-to-back games….. Eric Fehr's struggles continue as he has just one assist in 16 games…..Listen to The Illegal Curve Hockey Show today from 10:15 am – 3 p.m. CST on TSN 1290 Radio…..Join The Illegal Curve Crew at The Cheer Bar & Grill (corner of Osborne and Stradbrook) for tonight's Jets/Sabres game…..