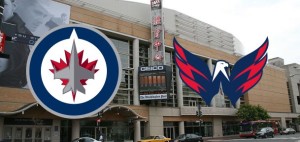 When: Tuesday, April 23, 2013
Time: 6:00 p.m. CST
Where: Verizon Center, Washington, DC
Records: Winnipeg Jets (24-19-3 – 9th in East), Washington Capitals (25-18-2- 3rd in East)
Television/Radio: CSN-DC, TSN-JETS/TSN 1290
The Story: To say that tonight's hockey game is important would be like saying pizza is delicious.
It's obvious if you're reading this that the Winnipeg Jets playoff chances will be on the line tonight when they play the Washington Capitals in the Nation's Capital with a little thing called a trip to the Stanley Cup Playoffs on the line.
With just two games remaining in the 2013 regular season, the Jets can move from 9th place in the Eastern Conference to 3rd place if they defeat Washington tonight in regulation. An overtime/shootout win or regulation loss will keep the Jets in 9th place and will severely limit their chances at making the postseason.
The Jets currently sit at 51 points after Monday night's 2-1 win over the Buffalo Sabres and are now just one point behind the Ottawa Senators for the 8th and final playoff spot. The Jets are also one point behind the New York Rangers, who sit in 7th in the East. It should be noted that both the Senators and Rangers have a game in hand on the Jets (New York plays the Florida Panthers tonight on the road, 6:30 p.m. CST).
There will be an element of revenge at play during tonight's game as the Capitals embarrassed the Jets in Winnipeg in late March (March 21st and 22nd) with back-to-back road victories (4-0, 6-1) so a victory tonight could erase the bad stench that was left a month ago. In four meetings this season between the Jets and Capitals, Washington has won three times, all on the road. Winnipeg's lone victory came back in early January, a 4-2 road win at the Verizon Center.
The Jets will be facing one of the hottest teams in the league tonight, featuring none other than current NHL goal-scoring leader Alexander Ovechkin, whose 30 goals in 45 games have made him a leading candidate for this year's Hart Trophy. The Capitals have one 9 of their last 10 games and 13 of their last 16 games since the two back-to-back games in Winnipeg.
One of the keys to tonight's game is going to be the Jets ability to limit the offensive chances of Washington's number-1 line of Marcus Johansson-Nicklas Backstrom-Alexander Ovechkin which will most likely fall on the defense pairing of Grant Clitsome and Ron Hainsey. Washington's 2nd line of Martin Erat-Mike Ribeiro-Troy Brouwer is nothing to scoff at either which means Derek Meech and Dustin Byfuglien will also have their hands full.
A second important key to tonight's game is going to be staying out of the penalty box and executing well on the penalty kill. Washington boasts the NHL's Number 1 Power Play (26.1%) which means Winnipeg is going to have to try not to take too many penalties and kill them off if and when they do.
Kyle Wellwood suffered a serious hand injury during Monday night's game and will not play tonight. Expect Nikolai Antropov to check back into the line-up in Wellwood's place. Antropov has not played since April 2nd versus the New York Islanders. He has five goals and 11 assists in 38 games.
Ondrej Pavelec is expected to start in net for the Jets tonight.
Braden Holtby is expected to start in net for the Capitals tonight.
Follow @IllegalCurve on Twitter leading up to today's game.
Projected Jets line combinations (subject to change before game time):

Goalie:
Ondrej Pavelec
Forwards:
1st: Andrew Ladd- Bryan Little- Blake Wheeler
2nd:  Evander Kane- Nikolai Antropov- Alexander Burmistrov

3rd:  Eric Tangradi– Antti Miettinen- Mike Santorelli
4th:  James Wright- Aaron Gagnon – Chris Thorburn
Defence:
Derek Meech – Dustin Byfuglien
Grant Clitsome – Ron Hainsey
Paul Postma- Mark Stuart
Offensive Leaders:
Washington Capitals: Alexander Ovechkin (30 goals, 21 assists, 51 points), Mike Ribeiro (13 goals, 34 assists, 47 points), Nicklas Backstrom (7 goals, 39 assists, 46 points)
Winnipeg Jets: Andrew Ladd (18 goals, 28 assists, 46 points), Blake Wheeler (17 goals, 22 assists, 39 points) Evander Kane (16 goals, 16 assists, 32 points), Bryan Little (7 goals, 24 assists, 31 points)
Injury Report:
Washington Capitals: Joel Ward (knee), Brooks Laich (groin), Tom Poti (back)
Winnipeg Jets: Tobias Enstrom (mid-body, week to week), Zach Bogosian (concussion), Olli Jokinen (high ankle sprain, out 6-8 weeks), Kyle Wellwood (foot)
Who's Next:  The Jets final regular season game is in Winnipeg on Thursday, April 25th against the Montreal Canadiens (7:00 p.m. CST).
QUICKIES…..Winnipeg is 6-0-1 in their last seven games…..Andrew Ladd's 7 game points streak ended on Monday. Ladd had four goals and 10 assists during that span…..