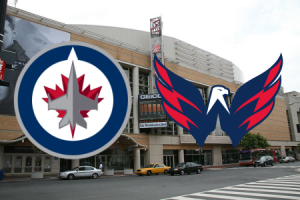 When: Thursday, February 9, 2012
Time: 6:00 p.m. CST
Where: Verizon Center, Washington, DC
Records: Winnipeg (25-24-6), Washington Capitals (28-21-4)
Television/Radio: TSN-JETS,CSN-MA/ TSN 1290 Radio
The Story:  The Winnipeg Jets face the Washington Capitals tonight in a crucial Southeast Division battle and make no mistake about it, there is a lot at stake.
The Jets are in 10th place in the Eastern Conference with 56 points and are five points behind the Ottawa Senators for the 8th and final playoff spot with 27 games remaining. However, the Jets are only four points behind the Capitals and thus 3rd place.
Tonight's game is truly a must-win for the Jets because they have played two more games than Washington. Should the Jets fail to register a point tonight, they will fall back six points, which will negate the ground they made up with Tuesday night's 2-1 win over the Toronto Maple Leafs. Tonight's meeting will be the fourth of six meetings between the Capitals and Jets this season. The Jets defeated the Capitals back in October but the Caps have defeated the Jets twice this season, once in overtime and once in regulation. The last time the two teams played was back on December 15th when Alexander Ovechkin got the only goal in 1-0 Capitals win.
Considering that they play the Capitals two more times this season (Friday, March 16th at home and Friday, March 23rd on the road), it will be imperative for the Jets to gain some forward momentum. Simply put, if the Jets cannot defeat the Capitals tomorrow night, they do not deserve to make the Stanley Cup Playoffs this season. Sure, the Jets can still make the playoffs if they lose tonight but it will simply be another opportunity wasted. Furthermore, the Jets have lost three times to the Florida Panthers, another team in their division, who are three points ahead of them in ninth place, so the importance of winning an inter-divisional game tonight is that much more heightened.
Jets forward Kyle Wellwood will not play for the Jets tonight against the Capitals and will miss his second straight game.
Ondrej Pavelec will start in net for the Jets tonight.
Projected Jets line combinations:
Goalie:
Ondrej Pavelec
Forwards:
1st: Andrew Ladd-Bryan Little- Blake Wheeler
2nd:  Evander Kane- Nikolai Antropov- Eric Fehr
3rd:  Tanner Glass- Jim Slater- Chris Thorburn
4th:  Antti Miettinen-Aaron Gagnon-Alexander Burmistrov
Defence:
Dustin Byfuglien- Tobias Enstrom
Zach Bogosian-Mark Stuart
Johnny Oduya-Ron Hainsey
Projected Caps line combinations (via Katie Carrera of the Washington Post):
Goalie:
Tomas Vokun
Forwards:
1st: Alex Ovechkin-Marcus Johansson-Troy Brouwer
2nd: Jason Chimera-Mathieu Perreault-Alexander Semin
3rd: Matt Hendriks-Jeff Halpern-Joel Ward
4th:  Keith Aucoin-Brooks Laich-Jay Beagle
Defence:
Karl Alzner- John Carlson
Jeff Schultz-Dennis Wideman
Roman Hamrlik-Dmitry Orlov
Offensive Leaders:
Washington Capitals: Nicklas Backstrom (13 goals, 29 assists, 42 points), Alexander Ovechkin (22 goals, 19 assists, 41 points), Dennis Wideman (10 goals, 26 assists, 36 points)
Winnipeg Jets: Blake Wheeler (10 goals, 26 assists, 36 points), Evander Kane (18 goals, 13 assists, 31 points), Kyle Wellwood (10 goals, 21 assists, 31 points)
Injury Report:
Washington Capitals: Mike Green (hip) Tom Poti (groin) Nicklas Backstrom (concussion)
Winnipeg Jets:  Stapleton (lower body) Wellwood (flu)
Who's Next: The Jets next game is on Saturday, February 11th, against the Pittsburgh Penguins (1:00 p.m. CST).
QUICKIES…… The Jets have not scored a power play goal in seven straight games…..The Jets are 20-2-1 when leading after the second period…..Aaron Gagnon was six for nine in the face-off circle on Tuesday against the Maple Leafs…..Join Illegal Curve at The Cheer Bar & Grill for tonight's Jets/Capitals game (Osborne and Stradbrook)…..Pick up your official Illegal Curve New Era 5950 Fitted Hat, available online or at City Haul on 823 Corydon Avenue…..