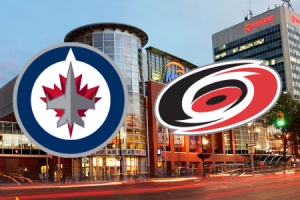 When: Saturday, October 22, 2011
Where: MTS Centre, Winnipeg, Manitoba
Time: 6:00 p.m. CST
Records: Winnipeg (1-4-1), Carolina (3-2-2)
Television/Radio: CBC,FS-CR (HD)/TSN Radio 1290
The Story: The Winnipeg Jets are back on home ice tonight for an inter-divisional game against the Carolina Hurricanes but don't expect them to roll out the red carpet (that will be reserved for teen pop sensation Justin Bieber and his girlfriend Selena Gomez who are both expected to be in the Winnipeg crowd Saturday night).
The Jets aren't interested in being good hosts tonight as they will have only two objectives in mind once the puck is dropped: outwork the opposition and get a win any way you can.
It is a fact of life in Winnipeg these days that the team is not playing well and when you consider that Winnipeg self-destructed in both road losses to Toronto on Wednesday and Ottawa on Thursday, there is more than a little cause for concern.
For Winnipeg, improving on the basics might be a good start. Even though the Jets outshot the Senators Thursday night by a margin of 36-30, they were terrible in all three zones on the ice and it has been noticeable. A turnover by defenseman Johnny Oduya led directly to Daniel Alfredsson's third period goal and Dustin Byfuglien's positioning on Milan Michalek's power play goal was suspect.
It may be true that the Jets aren't a offensive juggernaut but that doesn't mean they aren't still capable of playing together as a team. It has been become obvious in just six games thus far this season that some players are trying to do too much themselves, sacrificing the team for individual glory. When you have trouble breaking out of your own zone and establishing any kind of forecheck, it probably doesn't make sense to try to go through an entire team on your own and there are several Jets players who still haven't learned that yet.
The Carolina Hurricanes come into town only one day after losing to the St.Louis Blues 3-2 in overtime. The Hurricanes defeated the Jets twice during the pre-season and have gotten off to a decent start so far in the regular season, losing only twice in regulation in seven games. The Hurricanes are led offensively by Eric Staal (4 points), Jussi Jokinen (5 points), Jeff Skinner (6 points) and Joni Pitkanen (6 points).
In order for the Jets to be competitive and win tonight, the team will have to play similarly to how it did last Monday against the Pittsburgh Penguins (a 2-1 win), when the team got off to an early lead and used a relentless forecheck to wear the opposition down The Hurricanes may be more talented than the Jets but the Jets can match the Hurricanes speed. Limiting turnovers and staying out of the penalty box are two simple areas of the game that the Jets will have to excel at tonight and all year long.
NOTES…. Winkler's Eric Fehr practiced with the Winnipeg Jets during yesterday's optional skate and wore a red jersey (no contact). He is two weeks away from practicing full-time with the team and will be at least two weeks after that before he's ready to return to game action…. Listen to The Illegal Curve Hockey Show, today from 9 a.m. CST-Noon CST on TSN Radio 1290 for an interview with Chip Alexander, Carolina Hurricanes beat writer for the Raleigh News & Observer…..
Lines for tonight:
Ladd/Little/Wellwood
Burmistrov/Antropov/Wheeler
Kane/Maxwell/Scheifele
Glass/Slater/Thorburn
Enstrom/Byfuglien
Stuart/Bogosian
Oduya/Jones
Pavelec
Mason