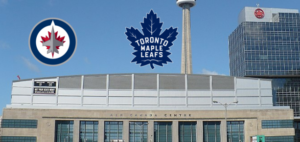 After being beat handily 6-2 by Chicago to start the road trip the Jets are going to be looking for a bounce back game tonight in Toronto.  The Leafs played last night in New York as they defeated the Islanders with a goal late in the 3rd period to take it 5-4.
The only anticipated change to the lineup for the Jets will be a return of Connor Hellebuyck to the net.  For now the projected lineup below is based on the last game and will be updated once morning skate gets underway.
Morning skate notes:
Ken Wiebe of the Winnipeg Sun tweets "#NHLJets on the ice at ACC for am skate. Steve Mason is joining the group for a full workout. Connor Hellebuyck is going to start in goal vs #Leafs tonight".
He also tweets:
"#NHLJets HC Paul Maurice just spent some time at end of morning skate talking with Tucker Poolman, a decent indication he could be coming out of the lineup for Jacob Trouba. Should know more on that matter shortly".
Projected Jets lines, D pairs and starting goalie:
Connor-Scheifele-Wheeler
Ehlers-Stastny-Laine
Perreault-Little-Armia
Copp-Lowry-Tanev
Morrissey-Trouba
Morrow-Byfuglien
Chiarot-Myers
Hellebuyck
Comrie
Scratches:  Dano, Matthias, Poolman and Roslovic.
Injured:  Enstrom, Kulikov, Hendricks and Mason.
Audio:
Blake Wheeler
Jacob Trouba
Mark Scheiefele
Patrik Laine
Coach Maurice:  On the development of the Jets roster.  Is tonight's game a test?  On Laine's development.  On why it made sense for Jacob Trouba to get into the game?  On the Jets rebounding from poor performances.  On Hellebuyck's development.  On helping Laine adjust.  Any lineup changes?  On Mason's status.
All audio courtesy of TSN 1290 Winnipeg.