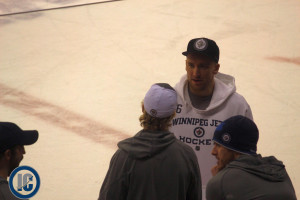 With it being a matinee game today neither team will hold a game day morning skate.  Here are this afternoon's projected lines based on the skate at the MTS Centre on Friday:
Ladd-Little-Frolik
Stafford-Scheifele-Wheeler
Perreault-Lowry-Stempniak
Tlusty-Slater-Thorburn
Enstrom-Myers
Stuart-Trouba*
Pardy-Harrison
Pavelec
Hutchinson.
*Note Trouba didn't skate on Friday (Byfuglien skated in his place) but Maurice said it was maintenance and that he would be in the lineup today.
It sounds like the only change the Canucks are making to their lineup from the game they played against Chicago on Thursday is inserting Sven Baertschi who had been in the AHL for Ronalds Kenins.  A look at the lines you may see this afternoon from Vancouver:
Sedin-Sedin-Burrows
Higgins-Bonino-Vrbata
Matthias-Vey-Dorsett
Baertschi-Horvat-Hansen
Edler-Tanev
Hamhuis-Weber
Sbisa-Bieksa
Lack
Markstrom