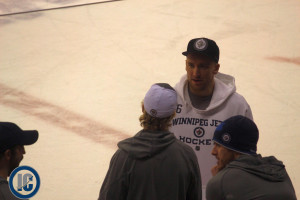 With the Jets playing last night in Edmonton there won't be a morning skate today in Vancouver.  We don't expect any changes from the winning formula for the forward lines or defence pairings.  The only change comes in net.  Here are the lines the Jets used last night against the Oilers:
Ladd-Lowry-Frolik
Stafford-Scheifele-Wheeler
Tlusty-Slater-Stempniak
Thorburn-O'Dell-Halischuk
Enstrom-Myers
Stuart-Trouba
Pardy-Harrison
Hutchinson
Pavelec
According to Tim Campbell of the Winnipeg Free Press Michael Hutchinson will be the starting goalie tonight.  Paul Friesen of the Winnipeg Sun reporting Blake Wheeler is playing but will wear a face shield after losing some chicklets last night.
Jets audio:
Andrew Ladd – Importance of the game. drawing on what they did against the Canucks last time? On last five wins. Keeping the momentum going. How valuable has Pavelec been to get the team into this spot? What did he think of Wheeler returning to the game?
Audio courtesy of TSN 1290 Winnipeg.
Here are the projected Canucks lines from Brian Munz of TSN 1290 Winnipeg:
Daniel-Henrik-Burrows
Higgins-Bonino-Vrbata
Kenins-Horvat-Hansen
Matthias-Vey-Dorsett
Edler-Tanev
Hamhuis-Weber
Sbisa-Bieksa
Lack
Markstrom